Rate Policy Diverges in Southeast Asia as Currency Rout Deepens
(Bloomberg) -- Southeast Asia's central bankers are taking diverging policy stances even as their economies get slammed by the same headwinds.
Dollar strength, higher oil prices, and global monetary policy tightening are adding pressure on key emerging markets to protect their currencies and curb outflows. Amid all that volatility, central banks still have their inflation targets to consider. While the pickup in crude costs has seen policy makers across Southeast Asia add fuel subsidies to their inflation-fighting toolbox, their interest-rate policy is much less uniform.
The Philippines and Indonesia are finding more pressing needs to tighten policy for different reasons, while Thailand and Malaysia stick with a more patient stance. Here's how inflation is factoring into monetary policy approaches across Southeast Asia:
2018 target inflation range: 2% to 4%
Current CPI (YoY): 5.2%
The inflation hot streak shows no signs of abating in the Philippines, with data on Thursday showing prices surged 5.2 percent in June from a year ago. That was higher than all forecasts in a Bloomberg survey, giving more credence to those who worry the economy could be overheating amid strong growth.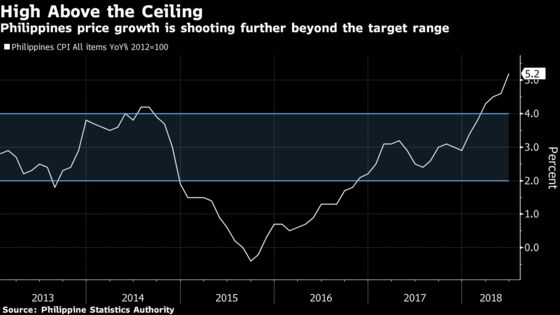 The peso is among the weakest currencies in Asia this year, which gives more reason for officials to consider tightening as emerging markets aim to stem outflows. The central bank hiked its overnight reverse repurchase rate by 25 basis points each in May and June, with Governor Nestor Espenilla keeping the door open for more increases.
2018 target inflation range: 2.5% to 4.5%
Current CPI (YoY): 3.12%
Bank Indonesia's surprise move last week to raise the benchmark interest rate by 50 basis points -- on top of two hikes in May -- shows how determined officials are to stabilize the rupiah amid investment outflows.
A third straight easing in inflation in June, as reported Monday, should give officials some reassurance, but with the currency still under pressure, price growth isn't the primary target of central bankers right now.
What Our Economists Say

"Even if the rupiah stabilizes in the short term, we expect more rate hikes as long as the current account deficit continues to widen and the Federal Reserve keeps raising interest rates."

-- Tamara Henderson, Bloomberg Economics
2018 target inflation range: 1% to 4%
Current CPI (YoY): 1.38%
Thai inflation unexpectedly eased a bit in June from a year earlier, against economists' projections for a fourth straight increase, data showed Monday.
Even so, bets are mounting the Bank of Thailand is moving closer to tightening monetary policy. Brent crude prices are hovering near $80 a barrel, and the baht is down 1.6 percent against the dollar this year. Policy makers discussed conditions and appropriate timing for policy normalization at their meeting on June 20, when the benchmark rate was left near a record low of 1.5 percent.
Economists at Australia & New Zealand Banking Group Ltd. see a 25 basis-point rate hike as early as November.
2018 target inflation range: [none]
Current CPI (YoY): 1.8%
Inflation has been less of a focus in Malaysia, where a political transition is fueling policy uncertainty, including at the central bank following the sudden resignation of the governor.
As a net energy exporter, higher oil prices have a more benign effect on inflation in Malaysia. The scrapping of a 6 percent goods-and-services tax should also keep price growth tame, at least until the planned introduction of a sales tax later this year.
After an early interest-rate hike in January, inflation has steadily eased, lending little urgency to tighten monetary policy. Just four of 22 economists surveyed by Bloomberg in mid-May saw another increase in the benchmark interest rate by year-end.