South Korean Winners and Losers in U.S. Vote: Election Guide
(Bloomberg) -- South Korean semiconductor and green energy stocks are seen as key beneficiaries if Joe Biden is elected U.S. president.
The benchmark Kospi was among the first stock benchmarks in Asia to erase its loss for the year, and is up 61% from its March low. The nation's exports in the latest quarter jumped by the most since 1986 as demand for memory chips and electronics increased from China and other major economies amid homeworking during the pandemic.
One focus point in the event of Biden victory would be whether he can help end the U.S. trade conflict with China that has been a feature of President Donald Trump's administration. His relationship with North Korea would be closely watched too -- the Democratic presidential candidate said he won't meet Kim Jong Un unless the North Korean leader moves to reduce his nuclear arsenal. Biden's $2 trillion clean-energy plan has already contributed to rallies in related Korean stocks.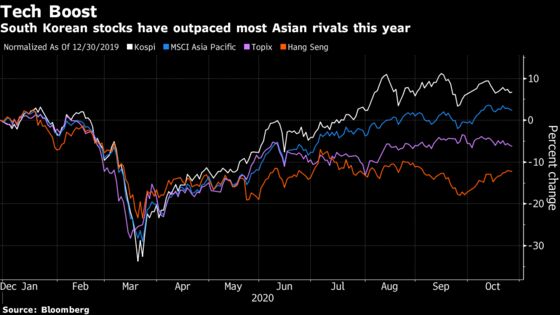 Korean Shares Would Gain If Biden Wins Elections: Taking Stock
Here are some key Korean stocks and sectors to watch in the upcoming U.S. elections, according to analysts and fund managers in Seoul. (Individual stock moves mentioned are year-to-date performances.)
Sino-American trade tensions had a positive impact on Korean semiconductor stocks, said Sangwon Lee, a strategist at Samsung Active Asset Management. Samsung's memory business benefited from stockpiling by Huawei Technologies Co. ahead of U.S. sanctions.
Key stocks: Chipmakers Samsung Electronics Co. (+5.7%) and SK Hynix Inc. (-12%)
A Biden win may end the yearslong rally of U.S. growth stocks, said Lee Dong-Hoon, chief executive officer at NH Hedge Asset Management. South Korea's tech-heavy Kosdaq Index, which is up 20% so far this year, is also vulnerable to a correction, he said.
Democrats' push for extended Medicaid coverage may be good for Korean makers of copycat versions of biologic drugs, but investors need to check whether the Korean drugs would be added to U.S. insurance coverage, said Lee at Samsung Active Asset.
Key stocks: Pharmaceutical companies Celltrion Inc. (+34%) and Samsung Biologics Co. (+47%)
South Korea's makers of electric-car batteries, solar panels, wind power plants and hydrogen fuel-cell vehicles would likely benefit from Biden's climate plan, according to Seoul-based KB Securities. Such benefits may have already been priced in ahead of the election, so investors need to focus on long-term growth, KB said.
Key stocks: Chemical and battery maker LG Chem Ltd. (+102%), Doosan Fuel Cell Co. (+399%), chemical maker and solar play Hanwha Solutions Corp. (+144%), CS Wind Corp. (+174%)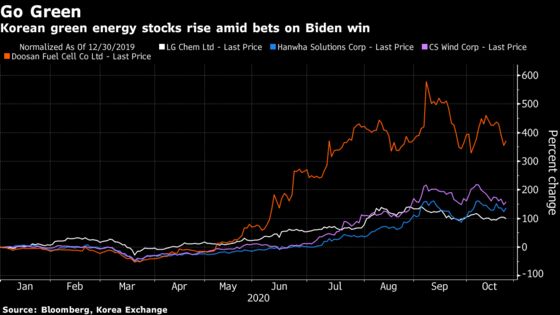 The relationship between the U.S. and North Korea may deteriorate if Biden is elected, said Lee Dong-Heon, an analyst at Daishin Securities.
Shares of South Korean infrastructure stocks, dubbed "peace stocks," jumped in 2018 when Trump held a summit with Kim. North Korea clearly favors Trump and has denounced Biden's candidacy.
Worse relationship with the northern neighbor would dent hopes for new infrastructure projects or investment in Kim's regime.
Key stocks: Rail-car maker Hyundai Rotem Co. (-1.9%), Hyundai Engineering & Construction Co. (-27%), Namhae Chemical Corp. (-1.2%)
A Biden victory would help the South Korean won gain further as it would likely ease trade tensions, according to Samsung Futures. The export-dependent won has already strengthened, reaching a 19-month high on Monday, and is so far the best-performing currency in Asia this month.
"Expectations for the U.S. economy to recover on the back of stimulus would also help lift risk appetite in Asia, boosting the won to as high as 1,060 per dollar in the first half of next year," said Kim Yumi, a market strategist at Kiwoom Securities Co.