South Korea's GDP Misses Forecasts, Raising Hurdle to Rate Hike
(Bloomberg) -- Weaker-than-expected growth in South Korea's economy is raising fresh questions about whether the Bank of Korea will get its long-awaited interest rate hike next month.
While stronger net exports helped sustain expansion, a second-straight quarterly decline in corporate capital investment and a sharp drop in hiring are evidence that the economy is losing steam.
It's no surprise that growth is slowing -- the central bank trimmed its 2018 forecast last week. The question is whether the latest numbers are bad enough and rising external risks severe enough that BOK policy makers stand pat again in November.
Gross domestic product expanded 0.6 percent in the three months ended in September from the previous quarter, versus the median estimate of 0.8 percent.
From a year earlier, the economy grew 2.0 percent, below a 2.3 percent forecast. This was the slowest since 2009, due to especially strong growth in the year-earlier period.
The contribution of net exports to GDP was 1.7 percentage points. Facilities investment fell 4.7 percent after dropping 5.7 percent the previous quarter.
"If the BOK wants to increase the policy rate, it needs to provide good excuses, but none make much sense for a rate hike next month as the economy doesn't look good, inflation remains benign and growth in household debt is slowing," said Cho Young-moo, an economist at LG Economic Research Institute.
The central bank cited rising external risks when it left its policy rate unchanged last week, even as Governor Lee Ju-yeol delivered a hawkish signal that he will soon seek to address growing financial imbalances, including record household debt and a widening rate gap with the U.S. He later said the BOK bank would consider raising rates next month as long as the economy remained stable.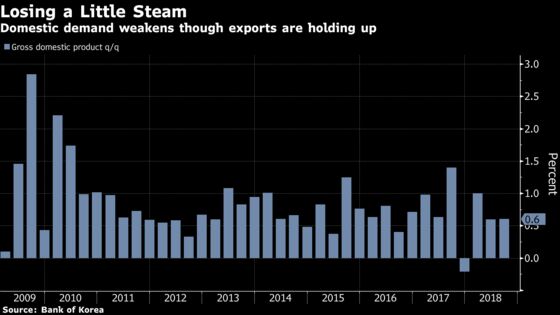 Given the latest data, the economy may not even meet the BOK's new 2018 growth forecast of 2.7 percent, said Joo Won, an economist at Hyundai Research Institute. "The downward trend of economic growth has become more apparent."
The U.S.-China trade war could definitely hurt South Korea, Joo said, especially if it worsens China's own economic slowdown. "If the trade battle hits China's domestic market, it will be fatal for Korea's exports," he said.
What our economist says...
"Domestic demand is likely to remain muted in the near term, given weakness in the labor market. Risks to external demand also cloud the outlook for the export-driven economy. For the Bank of Korea, this likely adds up to a need to keep monetary policy accommodative."

-- Justin Jimenez, Bloomberg Economics

For more, see our Korea Insight
The won led Asian currencies lower Thursday, as dimming prospects for a rate hike combined with souring global risk sentiment. The won lost as much as 0.8 percent, hitting its weakest level in two weeks following a sell-off on Wall Street overnight.
The BOK held a meeting Thursday to discuss the impact of the U.S. stock rout. It reiterated that Korea's economic fundamentals are stable, and said it would closely monitor conditions.
Export volumes rose 3.9 percent in the third quarter from the previous quarter. Import volumes contracted 0.1 percent.
Construction investment declined 6.4 percent from the earlier quarter.
Government spending climbed 1.6 percent, while private spending edged up 0.6 percent.