South Korea Opposition Leader Sees Danger in Weak Nukes Deal
(Bloomberg) -- The leader of South Korea's main opposition party warned that calls for acquiring nuclear weapons could grow in Seoul if U.S. talks with North Korea fell short of the regime's complete denuclearization.
Liberty Korea legislative leader Na Kyung-Won said in an interview in Seoul that a "small deal" with North Korea's Kim Jong Un risked bolstering demands for the U.S. to redeploy its own nuclear weapons to the peninsula. She said she planned to convey her party's desire for the dismantlement and inspection of Pyongyang's weapons program during an expected visit to Washington ahead of Donald Trump's planned summit with Kim.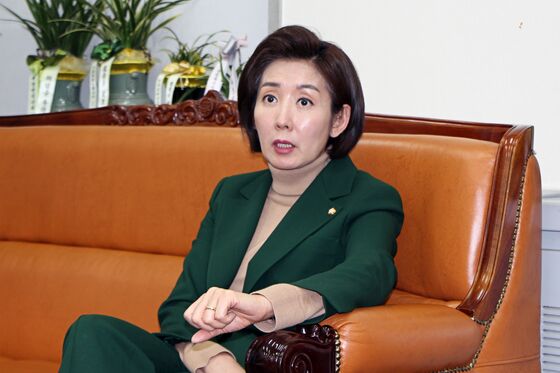 "If the United States accepts North Korea as the de facto nuclear state through a small deal, acquiring nuclear weapons is the only viable path for us, some people argue," Na, 55, told Bloomberg on Thursday. "With a small deal, demand for deploying strategic nuclear weapons will increase."
Na's remarks illustrate concern among South Korean conservatives as President Moon Jae-in, a progressive, pushes ties between the rivals to unprecedented levels. The opposition, which is trying to rebuild after former President Park Geun-hye's 2017 removal and subsequent corruption conviction, has long taken a more skeptical view of Kim's intentions.
"Nowhere do we see in the last year's process the denuclearization of North Korea," Na said. "We only see denuclearization on the Korean peninsula on the North's terms."
Na spoke before the U.S.'s special envoy Stephen Biegun said that North Korea had committed to dismantling its all its uranium- and plutonium-enrichment facilities, a sign that Trump is seeking clearer disarmament steps from the upcoming Kim summit. Kim has made no pledges to let North Korea's arsenal be inspected or dismantled since agreeing to "work toward complete denuclearization of the Korean Peninsula" in his first Trump meeting in June.
Biegun was expected to arrive Sunday in South Korea for more talks, including meetings with his North Korean counterpart, the State Department said.
Na, a former judge and four-term lawmaker, became the conservative party's first female floor leader in December. She led the parliament's foreign policy committee from 2015 to 2016, when Park signed a controversial deal accepting Japanese compensation for women forced to work in wartime military brothels in exchange for an apology many South Koreans believe fell short.
"The comfort women deal led to the first official apology, which was meaningful in the history of diplomacy," she said on the comfort women deal. But she said the government was "too hasty in seeking an agreement" and didn't sufficiently reflect the desires of the victims.
The conservative bloc's approval rate recovered to 21 percent this week according to Gallup Korea, exceeding the 20 percent level for the first time since Park's impeachment. Support for Moon's Democratic Party was 39 percent, the second week in a row it was below the 40 percent mark.
Na said the opposition party would put forward a corporate tax cut as a central agenda item during the parliament's session this month.
Both sides of South Korea's political divide are united in concern over U.S. demands that the country pay as much as 50 percent more for U.S. military protection. The dispute caused their cost-sharing deal to lapse on Dec. 31 and, if it's not renewed soon, South Korean civilian personnel could face furloughs as soon as April.
Na warned that the U.S.'s position in Asia could be weakened if such disagreements are left unchecked. Any cost-sharing deal must be ratified by South Korea's National Assembly and the U.S. Congress.
"If this problem goes on the wrong track, it could cause anti-U.S. sentiment," Na said. "The South Korean public believes that there is an excessive demand to increase the payment from the U.S. government."