South Korea Inflation Exceeds 3% for Third Month in December
(Bloomberg) -- South Korea's inflation topped 3% for a third straight month in December, as still-high commodity prices, ongoing supply issues and resilient domestic demand all worked to lift consumer prices. 
Consumer prices rose 3.7% from a year earlier, far exceeding the Bank of Korea's 2% target and matching economists' estimate, data from Statistics Korea showed Friday. From a month earlier, consumer prices rose 0.2%.
Policy makers have been ramping up their caution over quickening inflation in recent months after a global acceleration in price growth reached Korea. Inflation will be a key consideration as the BOK board mulls when to raise interest rates again, having hiked twice since August.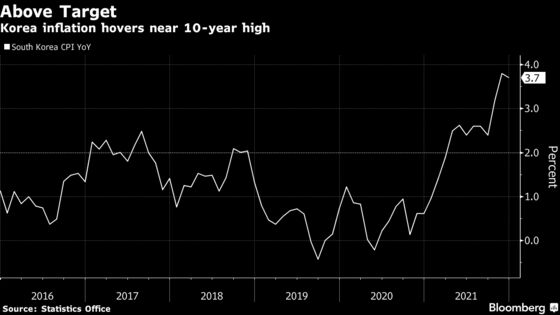 The central bank expects inflation to hover above the target well into next year amid prolonged supply bottlenecks and a recovery in demand. While Governor Lee Ju-yeol has indicated further hikes are on the table, he has remained vague on the timing. 
Friday's report shows consumer prices remained strong even as a government fuel tax cut came into effect and virus restrictions were tightened again to stem a surge in infections.  
Transportation costs contributed the most to the headline reading, adding 1.05 percentage points. Food and non-alcoholic drinks added another 0.98 percentage points, while restaurants and accommodation accounted for 0.62 percentage points. 
What Bloomberg Economics Says...

"Inflation in South Korea held well above the Bank of Korea's 2% target in December, paving the way for another rate hike in the first quarter of 2022. Though risks from the latest virus wave are damping the central bank's outlook, its recent rhetoric suggests concerns on inflation continue to outweigh those on growth."

-- Justin Jimenez, Asia Economist

Read full note here.
Friday's figures reflect the latest changes to the consumer price index basket and base year. 
The statistics office last week adjusted the base year for the index to 2020 from 2015, and revised the basket to add 14 new items including masks and clothes dryers while removing 13, including school uniforms and cameras. 
For the year as a whole, Korea's inflation came in at 2.5%, up sharply from 2020's 0.5%, reflecting higher commodity and food prices.  
In December, core inflation excluding agriculture and oil prices was up 2.7% from a year earlier.