South African Lawmakers' Panel Supports Land-Seizure Plans
(Bloomberg) -- A panel of South African lawmakers resolved that the constitution needs to be changed to make it easier to seize land without paying for it, the latest twist in a divisive debate over how to address racially skewed ownership patterns dating back to apartheid and colonial rule.
The ruling African National Congress and the populist Economic Freedom Fighters, the third-largest party, used their majority in Parliament's Joint Constitutional Review Committee to force through the adoption of a report Thursday recommending that amendments be made to explicitly permit expropriation without compensation.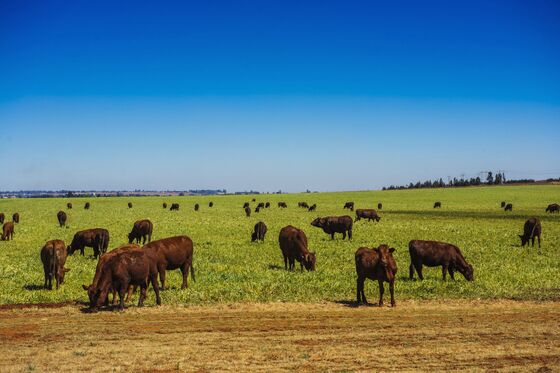 The Democratic Alliance, the main opposition, and several other smaller parties complained that the panel didn't follow proper procedure because it largely ignored more that 400,000 written submissions from the public on the issue. Lobby groups have threatened to challenge the move in court.
The wording of section 25 of the constitution needed to be changed to "address the historical wrongs caused by the arbitrary dispossession of land," the committee said in its report, which was adopted by 12 votes to four. This will "ensure equitable access to land and further empower the majority of South Africans to be productive participants in ownership, food security and agricultural reform," it said.
The potential erosion of property rights and fears of a Zimbabwe-style land grab has added to negative sentiment toward emerging markets and compounded a sell-off in South African assets. The rand pared earlier gains on Thursday and was at 14.3168 against the dollar at 11:42 a.m. in Johannesburg.
While the National Assembly's approval of the report is seen as a formality, the process could still be delayed.
The South African Institute of Race Relations, a Johannesburg-based research institution, on Wednesday said it has briefed its lawyers about the procedural flaws with a view to seeking a judicial review of the parliamentary process. Agri SA, the farming industry's biggest lobby group, also said it will consult its lawyers on possible litigation.
"The proposed amendment is politically motivated and will cause large-scale damage to the South African economy," Agri SA said in an emailed statement. "The priority for millions of South Africans is job creation, housing, crime prevention and quality education. This should be the focus of government, rather than reckless and populist constitutional amendments."
If the process isn't derailed by lawsuits, another lawmakers' panel will draw up revised constitutional provisions that deal with property rights, which could take several months. The committee called for the changes be effected before national elections expected in May.
Care must be taken to ensure that any amendment to the constitution doesn't weaken or reduce property rights, the Banking Association said.
Any change that leaves property "vulnerable to expropriation without compensation would be a real risk to banks and the country's ability to attract both local and international investment," it said in an emailed statement.