South African Government Takes Eskom's Knock in the Bond Market
(Bloomberg) -- Eskom Holdings SOC Ltd.'s gain is the government's pain.
President Cyril Ramaphosa's assurances that his administration will not let the power utility fail have fanned a rally in its bonds. But it's weighing on sovereign debt.
While yields on benchmark 2026 government debt have dropped 38 basis points this year to trade at 8.50% on Friday, that pales in comparison with the 274 basis-point plunge for Eskom's 2021 dollar securities. To add insult to injury, the cost of insuring South Africa's government debt for five years is rising, while the same measure for state-owned company is steady.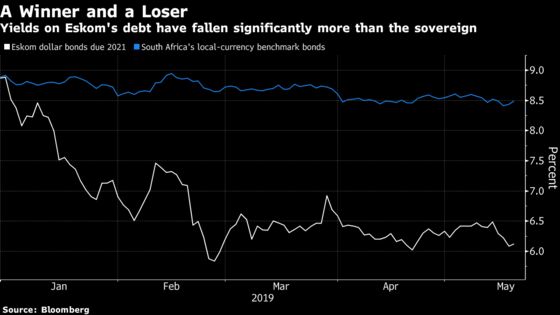 The majority of the cash-strapped electricity company's rand debt is guaranteed by government. Moody's Investors Service said Thursday it will now consider that part of the government's debt as the utility won't be able to meet its obligations without state help.
"It is very clear that government will not allow Eskom to fail, which means that they are responsible for the largest portion of debt," said Bronwyn Blood, a fixed-interest portfolio manager at Granate Asset Management in Johannesburg. "The smaller portion of unguaranteed debt which is left on Eskom's balance sheet is more manageable, and has reflected in offshore bond yields going lower."
Eskom has the second-largest dollar-debt pile in the nation after the government. Eskom's dollar yields have tightened more than the sovereign's this year, and investors including Ashmore Group PLC, FMR LLC and JPMorgan Chase & Co have increased their holdings the company's notes.