South African Economy Still Down From Pre-Pandemic Levels
(Bloomberg) -- South Africa's economy is slowly recovering from the impact of restrictions to contain the Covid-19 pandemic, with quarterly expansion beating expectations.
Gross domestic product grew an annualized 4.6% in the three months through March from the previous quarter, Statistics South Africa said Tuesday in the capital, Pretoria. That compares with downwardly revised growth of 5.8% in the three months through December and the 3.2% median of 16 economists' estimates in a Bloomberg survey.
However, GDP contracted 3.2% year-on-year in the period, the fourth straight quarter of decline and a bigger drop than was projected, which means output is still down from a year ago, when the pandemic started spreading.
What Bloomberg Economics Says

"South Africa's first quarter GDP data illustrates the economic bind that the country finds itself in. And we expect this to persist, with the recovery held back for the rest of this year because of the country's sluggish rollout of vaccinations, even as commodity prices rally."

--Boingotlo Gasealahwe, Africa economist

-Click here for the full REACT
An imminent third wave of Covid-19 infections that could prompt stricter lockdown measures, a slow rollout of vaccines, electricity constraints and the sluggish pace of structural reforms could weigh on the recovery of the economy that contracted the most in a century in 2020. The National Treasury and the central bank expect output to only return to pre-pandemic levels in 2023.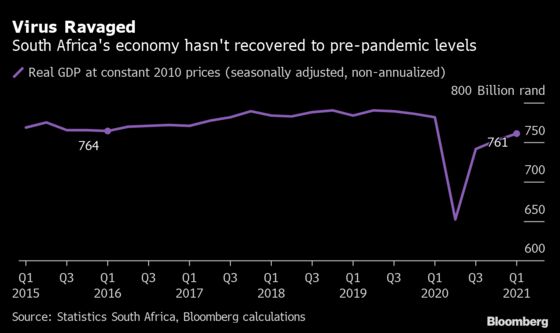 That will make it even more difficult for President Cyril Ramaphosa's government to ensure jobs lost as a result of strict lockdowns that halted most business activity in 2020 are recovered. Data last week showed only 15 million people out of a working-age population of 39.5 million were formally employed in the first quarter. That's 1.4 million people less than before the pandemic hit South Africa.
On a non-annualized basis, GDP expanded by 1.1%. The statistics office will drop its focus on the annualized rate starting from the second-quarter release.
South Africa's economy is stuck in its longest downward cycle since World War II. Policy paralysis and weak business sentiment weigh on fixed investment spending, with private-sector companies wary to commit large sums of money to domestic projects.
Gross fixed capital formation fell an annualized 2.6% from the fourth quarter. Annualized growth in household spending, which accounts for about 60% of GDP, increased 4.7% in the first quarter.
Click here to see a table of industries' performance
While the quarterly outcome supports BNP Paribas South Africa's projection for growth of 4.2% in 2021, the "resilience" in household consumption suggests that rate could be higher, said Jeffrey Schultz, a senior economist at the bank. The central bank also expects the economy to expand at that rate this year.