South Africa Seeks to Rein In Debt, Hold Off Welfare Boost
South Africa's Treasury vowed to return state finances to a sustainable path, holding off expanding welfare measures in one of the world's most unequal societies. Government bonds and the rand gained. 

Delivering his first budget since being appointed finance minister in August, Enoch Godongwana set more ambitious targets to rein in debt, reduce loan-serving costs, narrow the budget deficit and cut spending in the coming year, while sticking to a commitment to freeze civil-servant wages.
Bloomberg Economics: Same Fiscal Strategy, Same Underlying Risks
The yield on the 10-year generic rand bond fell seven basis points to 9.76%, while the rand strengthened 1.4% against the dollar at 4.54 p.m. local time.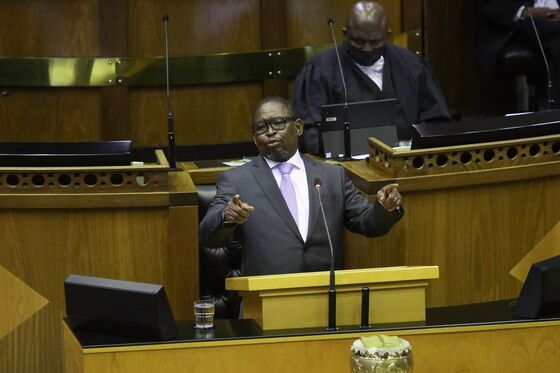 The former labor unionist and head of economic transformation in the ruling African National Congress also pledged to accelerate structural reforms to bolster economic growth and address the havoc wrought by the coronavirus and the deterioration in government finances caused by a decade of overspending, mismanagement and corruption. 

"The medium-term budget policy statement charts a course that demonstrates government's unflinching commitment to fiscal sustainability, enabling long-term growth by narrowing the budget deficit and stabilizing debt," Godongwana said in a speech prepared for delivery in Cape Town on Thursday.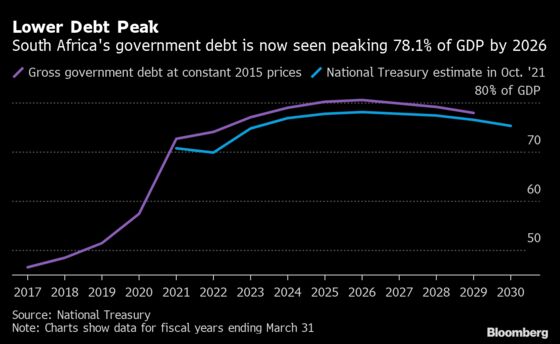 While South Africa's finances remain shaky, the situation has improved since February when the annual budget was announced. That's partly due to an upward revision to gross domestic product data and windfall revenue from mining companies buoyed by higher commodity prices.
 
Gross debt is now expected to peak at 78.1% of GDP in the 2026 fiscal year, before falling to 75.2% of GDP by the end of decade, according to the National Treasury.
 
Revenue for the current fiscal year will probably overshoot estimates by 120.3 billion rand ($7.9 billion). Half of that has already been allocated to help fund relief measures in the wake of deadly riots in July, more purchases of Covid-19 vaccines, a cash payout for civil servants and a jobs initiative in a country where more than a third of the workforce is unemployed.
Part of the remainder will be used to pay down debt, helping narrow the consolidated budget deficit to 7.8% of GDP in 2021-22 from 10% in the previous year, which was the biggest shortfall since World War II. Debt-service costs, the fastest-growing expenditure line item since 2011, are now forecast to peak at 5.3% of GDP in 2026, before easing to 5% of GDP three years later.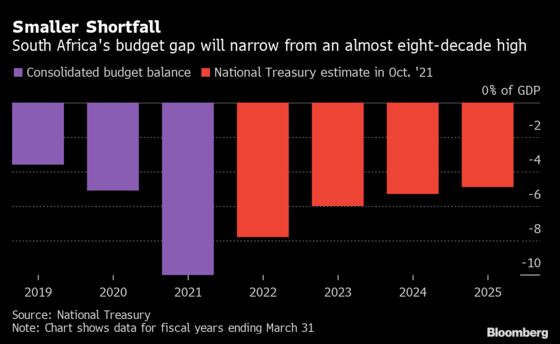 A ruling party heavyweight and key ally of President Cyril Ramaphosa, Godongwana's resolve may be tested by the ANC's worst electoral performance last week since the end of White-minority rule in 1994. Demands by factions within the party that already oppose fiscal austerity may intensify and lead the government to promise more social support before national elections take place in 2024.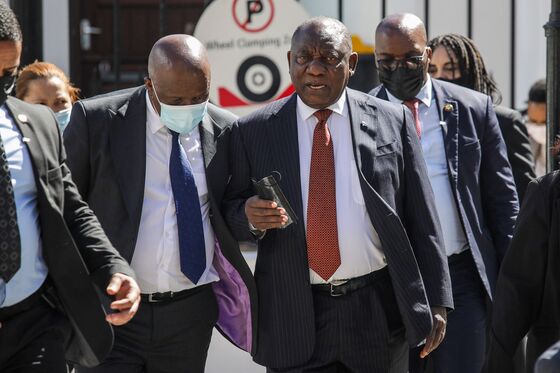 A monthly welfare payment of 350 rand that was reintroduced after the July riots is set to end in March. Civil-society groups have proposed a basic income grant that business organizations say is unaffordable. The Treasury will only set aside additional funds for social relief if public finances improve by February, it said.
 
"Committing to higher levels of spending in the absence of faster economic growth will further undermine macroeconomic credibility, with increasingly detrimental effects on the economy," the Treasury said. It sees the economy growing by 5.1% this year, with growth then slowing to an average 1.7% through 2023. Output is forecast to return to pre-pandemic levels late in 2022, a year earlier than estimated in February, it said.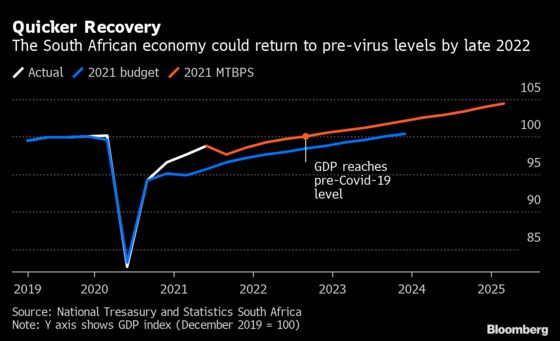 The proposed fiscal framework could also be undermined by concessions on government wages.
 
A court bid by labor unions to compel the state to implement the final phase of a three-year wage deal for state workers -- at a cost of 37 billion rand -- poses a risk to government finances, the Treasury said. Should the Constitutional Court rule in favor of the unions, the government may have to raise taxes, increase borrowings and reduce the size of the public service, it said.
 
Other risks include electricity supply constraints, policy uncertainty, and a shortage of coronavirus vaccines that would leave the country vulnerable to new strains of Covid-19 infections and stricter lockdown measures, it said.  
 
Godongwana declined to say if a 1 percentage cut in the corporate tax rate, as announced by his predecessor Tito Mboweni, will be implemented from next fiscal year. The proposed reduction, which would be the first since 2008, would take the levy to 27%. "I don't want to comment on that statement for now until the appropriate discussion at the time of February, where tax is being discussed," he said in an embargoed media briefing.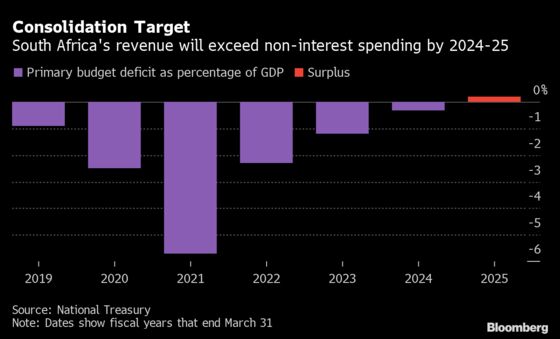 For now, the government expects to achieve a primary budget surplus, where revenue is higher than non-interest spending, by 2025. The Treasury this year shifted focus to make a primary surplus, instead of a spending ceiling, as its most critical fiscal anchor. The anticipated overrun of 0.2% of GDP would allow it to bring "the period of fiscal consolidation to an end," it said.