Ramaphosa Reassures South African Unions on Eskom Rescue
(Bloomberg) -- South African President Cyril Ramaphosa reached out to labor unions that oppose his plans to break up the state power utility, reassuring them that the move is aimed at rescuing the embattled company rather than preparing it for privatization and mass firings.
Eskom Holdings SOC Ltd. has amassed 419 billion rand ($29.6 billion) of debt following years of mismanagement, isn't producing enough power to meet demand or cover its costs and has had to institute rolling blackouts for the past five days. Ramaphosa last week announced that the utility would be split into generation, transmission and distribution units under a state holding company.
"Restructuring is not a path to privatization," Ramaphosa, who described the outages as a "hugely damaging reality check," told lawmakers in Cape Town on Thursday. "The reference to cost cutting must be understood not to mean retrenchments."
The energy crunch, which has shuttered businesses and caused traffic snarl-ups, comes at a terrible time for Ramaphosa and the ruling African National Congress. With elections in just three months, he is under pressure to revive a flagging economy and tackle a 27 percent unemployment rate.
The country's largest labor federation, an ANC ally with 1.6 million members, led a strike on Wednesday against job losses, and has warned of more protests if Eskom tries to fire workers.
"We accept, as government, that we have not done enough to bring some of the key stakeholders, such as labor, on board and are determined to correct this," Ramaphosa said. "We understand the fears of workers about job losses at Eskom and in associated industries. We understand the concerns of lenders, investors and business owners."
The president set up a new cabinet committee focusing on reviving Eskom that will report back to him on a daily basis, and said the utility would improve the maintenance of its plants, which are now on average 37 years old. The government would also make "a significant commitment" toward helping the utility stabilize its finances in next week's national budget, he said.
More on the Eskom Crisis
BI INSIGHT: Blackouts to Hit Growth Ahead of Election 
Eskom, which produces more than 90 percent of the power in Africa's most-industrialized economy, on Thursday reduced the amount of electricity it removed from the grid, cutting 2,000 megawatts.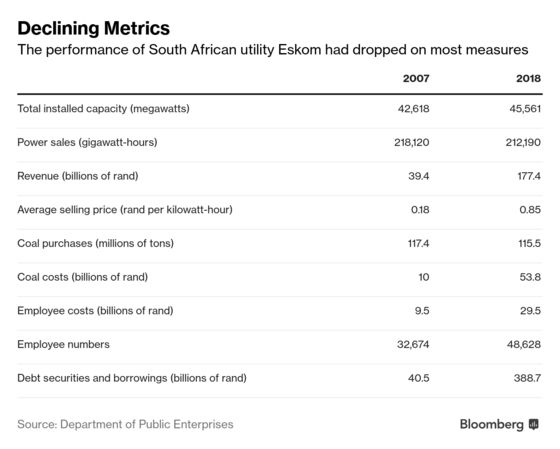 "There is a no single solution to the problems at Eskom -– neither restructuring, nor refinancing, nor cost cutting, nor tariff increases, nor better plant maintenance on their own will have the necessary effect," Ramaphosa said. "We need to pursue all of these measures and more, simultaneously, in a coordinated manner, and with purpose, to turn the utility around."