South Africa's Power-Plant Protests Threaten Supply Security
(Bloomberg) -- Protests at some South African power stations amid deadlocked wage talks are stopping coal from getting to plants and threaten to force the country's electricity provider to implement rolling blackouts.
"The national grid is expected to be constrained this evening due to instability at several power stations due to acts of intimidation," Khulu Phasiwe, a spokesman for Eskom, said on Twitter.
Four power generating units are currently offline, including one at Koeberg, South Africa's only nuclear power station. At the Matla plant, a conveyor belt, typically used to feed coal, has been cut, in what management says could be an act of sabotage, he said.
The standoff with workers comes as loss-making Eskom Holdings SOC Ltd. struggles to address issues from insipid demand to unsustainable debt. Strike action that began at the national power producer's stations on Monday could result in a repeat of the outages that followed wage protests in June.
Eskom offered to raise wages by as much as 7.5 percent annually -- backtracking on its earlier stance that it couldn't afford a pay an increase -- after it was forced to introduce rolling blackouts when protesters blocked roads and attacked staff as wage talks broke down.
Still, the utility has stood firm on its refusal to pay bonuses, after reporting an annual loss of 2.3 billion rand ($174 million) last week. That stance amounts to an "act of war," according to the National Union of Mineworkers, which represents the most workers of any group at Eskom.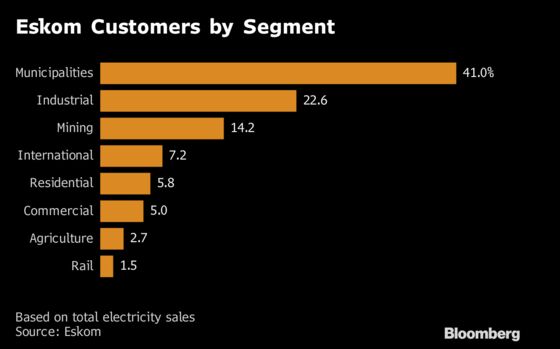 The NUM didn't immediately respond to a message seeking comment, while a spokeswoman for the National Union of Metalworkers of South Africa declined to comment. Legally, workers aren't permitted to strike because the power producer is deemed to provide an essential service.
Eskom said last week that no bonus provision was raised as the utility missed its net profit target of 500 million rand. The utility also said financial constraints require a reduction in employee benefit costs to keep the business sustainable.
Coal trucking at two plants has stopped due to acts of intimidation, Phasiwe said earlier on Monday. The Solidarity labor union isn't participating in the protests, but the action is preventing its members from entering the stations, said Deputy General Secretary Deon Reyneke.