Eskom Says South African Power System Still 'Tight, Vulnerable'
(Bloomberg) -- Eskom Holdings SOC Ltd.'s power system "remains tight and vulnerable" going into South Africa's summer because of increased maintenance.
As the state-owned utility schedules more work to improve its aging fleet, it's also experiencing more vandalism of its equipment and illegal connections, Chief Operating Officer Jan Oberholzer told journalists in Johannesburg on Wednesday. Eskom has managed to run for 164 straight days without implementing rotational power cuts, Oberholzer said.
"The risk of load shedding remains," he said, and it could take about two years before Eskom is out of such danger.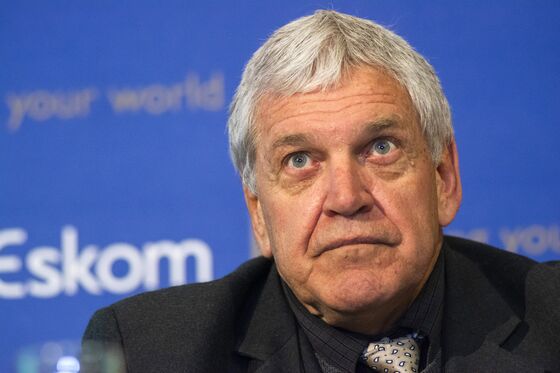 While the company can't guarantee there will be no outages, it's confident scheduled blackouts can be avoided and is the firm's main objective over the next seven summer months, acting Chief Executive Officer Jabu Mabuza said at the same briefing.
Eskom, which supplies almost all of South Africa's electricity, is buckling under 450 billion rand ($30 billion) of debt and relies on government bailouts to remain solvent. The government's plan to split the utility into transmission, generation and distribution businesses is facing resistance from labor unions.
Company officials have met with labor, top customers and senior managers to align different stakeholders to the plan, Mabuza said. It is still waiting for the chief restructuring officer of the firm to provide solutions on Eskom's capital cost structure, he said.
The unbundling will happen as "soon as it's practically possible," the acting CEO said. Interviews for the CEO post are planned for Sept. 9, which will then go to the board a week later, Mabuza said, adding that the Department of Public Enterprises will be presented with a list by the end of the month.
Eskom has raised all but 19 billion rand of the 46 billion rand it needs for the fiscal year through March 2020, Chief Financial Officer Calib Cassim said. Part of its remaining funding needs could be raised in international bond markets, he said.
Among the improvements noted by the utility was an increase in coal stocks. Supply of the fuel was below required levels for 10 power stations in November, which has been resolved for all but one to date.
The utility admitted that it hadn't properly addressed controlling emissions that make it the biggest contributor of greenhouse gas in the country. After asking for an extension in 2014 to meet South Africa's minimum emissions standards, it didn't do the work it said it would do to make improvements, Oberholzer said. Those appointed to the task need "to deal with the issue and not to go and ask for extension by extension by extension -- we need to fix it," he said.