ANC Pushes South African Land-Seizure Plan as Election Looms
(Bloomberg) -- South Africa's ruling party intensified a campaign to permit seizing land without compensation to address the legacy of apartheid as it seeks to maintain its majority in next year's election.
The rand sank after President Cyril Ramaphosa, who is also the head of the ruling African National Congress, read a statement on national television late Tuesday, that softened language saying expropriation would only be in a manner that doesn't harm the economy, agricultural production or food security.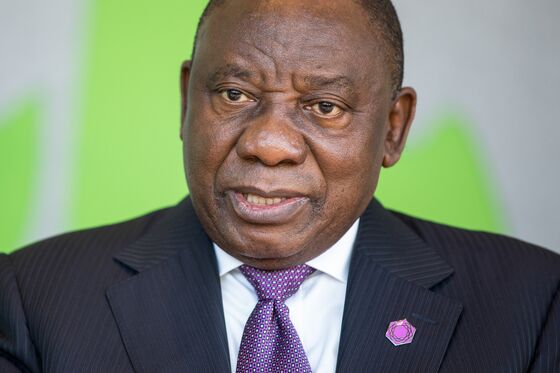 The dust-up underscores the ANC's precarious hold on a majority as it heads into to the ballot next year. TV footage of impassioned pleas from citizens at public hearings across the country to change policy on land may have spurred the party into action, as it risked losing leadership of the debate to the populist Economic Freedom Fighters.
"It is purely electioneering," Ralph Mathekga, an independent political analyst based in Johannesburg, said by phone. "It is the ANC trying to say that this is not the EFF's thing, it is ours as the ANC and we are going to prove that it is ours and we are going ahead."
The main opposition Democratic Alliance already controls key municipalities, while the EFF, formed from a breakaway from the ruling party in 2013, has won support from young voters in impoverished townships by vowing to nationalize everything from land to banks.
Lawmakers started a process to change the constitution to allow for expropriation without compensation in February after the ANC decided last year to adopt the measure to speed up giving black people more land. Access to land is one of the flashpoints of inequality in the nation of about 58 million where wealth and poverty are largely divided along racial lines.
Public hearings about the proposal started in June and will conclude this month.
"There have been public hearings -- we cannot ignore the voices of our people," Enoch Godongwana, who heads the party's committee on economic transformation, told reporters in Johannesburg Wednesday.
Ramaphosa won control of the ANC in December with a razor-thin majority and was elected president in February to replace Jacob Zuma who championed "radical economic transformation." While Ramaphosa has pledged to attract $100 billion in foreign investment over the next five years with business-friendly policies, he is trying to ensure that the ANC's support doesn't dip below 50 percent next year for the first time since the country's maiden all-race elections in 1994.
The government will have to finely balance social and economic considerations when deciding the type of land to be redistributed and how to make land tenure more productive, the International Monetary Fund said in a report released Monday.
"The 'without compensation' clause, which has accentuated uncertainty over property rights, is identified as a concern for investment," it said.
Both local and foreign investors are going to think twice about investing where there is a threat of losing their property, Terence Corrigan, a researcher at the Johannesburg-based South African Institute of Race Relations, said by phone.
"When they talk about amending the constitution, they must remember section 25 is not about land, it is about property as a whole," Corrigan said. "Any amendment to it is likely to make all property more vulnerable even if the initial intention is to expedite land reform."