South Africa Has Biggest Trade Surplus on Record in December
(Bloomberg) -- South Africa's trade surplus was the biggest on record in December as imports shrunk 26 percent from the previous month.
The 17.2 billion-rand ($1.3 billion) positive balance compares with the previous month's revised 3.3 billion-rand surplus, the Pretoria-based South African Revenue Service said in an emailed statement Thursday.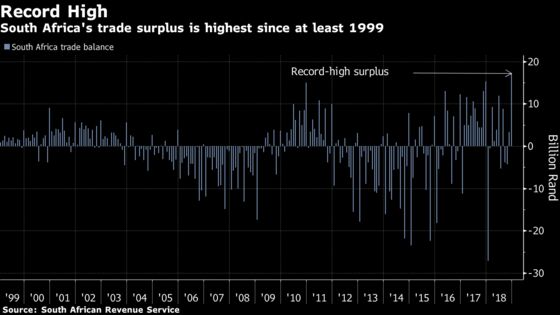 The surplus eases pressure on the current account, which is the broadest measure of traded goods and services. The rand has weakened 9.9 percent against the dollar since the start of 2018, battering confidence even as President Cyril Ramaphosa has pledged to attract $100 billion of investment over five years.
Imports by Africa's most-industrialized economy plummeted 26 percent from month earlier to 85.6 billion rand, the least since July 2017. The biggest decline by value was in machinery imports, which decreased 31 percent, or 8.1 billion rand.
Exports decreased 13 percent from November to 102.7 billion rand, led by a 19 percent drop in shipments of precious metals and stones.
The trade surplus for 2018 was 11.3 billion rand compared with a positive balance of 76.7 billion rand a year earlier.