South African Rate-Hold Bets Firm Up as June CPI Undershoots
(Bloomberg) -- South African consumer prices accelerated at a slower pace than economists' expectations in June, cementing the case for the central bank to hold its benchmark rate Thursday.
The annual inflation rate was 4.6 percent compared with 4.4 percent in May, Pretoria-based Statistics South Africa said in a statement Wednesday. The median estimate in a Bloomberg survey was 4.8 percent.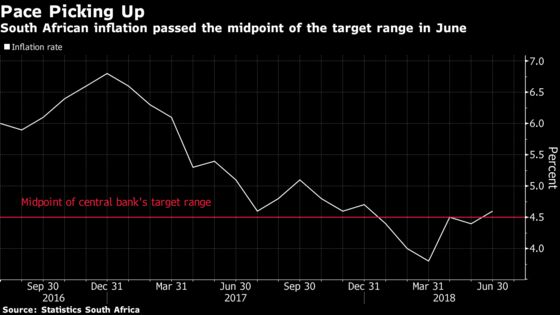 The rand had its worst month in more than two years in June as the U.S. and China exchanged tariff blows at a time when the prospect of rising American rates also weighed on emerging-market assets. The weaker currency and higher oil prices added upside risks to inflation in Africa's most-industrialized economy.
"The SARB isn't going to be in a rush to raise rates," Jeffrey Schultz, an economist at BNP Paribas South Africa in Johannesburg, said by phone. "We've had five months where headline inflation has undershot expectations, and this is likely to neutralize some of the hawkish tones from the central bank."
The rate has exceeded the midpoint of the central bank's target range of 3 percent to 6 percent for the first time since December. The Monetary Policy Committee has made it clear that it also prefers to see expectations for future inflation close to 4.5 percent.
The bank is likely to hold the benchmark rate at 6.5 percent on Thursday, according to all 15 economists in a Bloomberg survey. Forward-rate agreements starting in December, after the last MPC meeting of the year, dropped two basis points to 7.09 percent at 1:35 p.m. in Johannesburg as traders cut bets on a rate increase.
Core inflation, which excludes the price of food, non-alcoholic beverages, energy and gasoline, was 4.2 percent in June, the statistics agency said. Transport costs climbed 7.3 percent in June from a year earlier, the biggest increase since March 2017.
Retail sales increased 1.9 percent in May from a year earlier, the agency said. That's the second-slowest pace of gains since July 2017. The economy contracted the most in nine years in the first quarter and the weak output may discourage the central bank from embarking on hikes.