South Africa Inflation Slows to Mid-Point of Central Bank Target
(Bloomberg) -- South Africa's inflation rate reached the mid-point of the central bank's target range of 3 percent to 6 percent in December -- something the Reserve Bank says would allow for flexibility in dealing with price shocks.
Consumer-price growth slowed to 4.5 percent from a year earlier compared with 5.2 percent in November, the Pretoria-based Statistics South Africa said in a statement on its website Wednesday. That matched the median estimate of 19 economists surveyed by Bloomberg.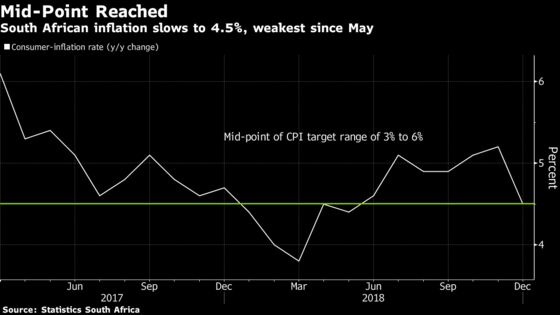 Inflation decelerated after a stronger rand and lower international crude-oil prices led to gasoline prices falling for the first time in two months in December. They reached record-high levels in October.
Core inflation, which excludes the prices of food, non-alcoholic beverages, fuel and electricity, was unchanged at 4.4 percent.
The South African Reserve Bank lowered its 2019 inflation forecast to 4.8 percent from a previous estimate of 5.5 percent largely due to lower assumed oil prices. Its price-growth forecast assumes an average oil price of $62 per barrel in 2019.
The central bank is seeking to anchor inflation at 4.5 percent to allow for flexibility in dealing with price shocks, Reserve Bank Governor Lesetja Kganyago told Bloomberg TV in Davos Tuesday. It increased the benchmark repurchase rate for the first time in more than two years in November even as inflation didn't breach the upper end of the range.
Read more from the Reserve Bank governor's interview in Davos
The bank's Monetary Policy Committee voted to hold the key rate at 6.75 percent last week. The improvement in the inflation outlook suggests that November's increase was not the start of a tightening cycle. Future policy moves will be data-dependent, the bank said.