South Africa Inflation Breaches 5% in October as Fuel Surges
(Bloomberg) -- South African inflation breached 5 percent for the second time this year in October as the cost of gasoline surged to a record.
Consumer prices rose 5.1 percent from a year earlier compared with 4.9 percent in September, Pretoria-based Statistics South Africa said in a statement Wednesday. The median estimate of 21 economists surveyed by Bloomberg was for 5.2 percent.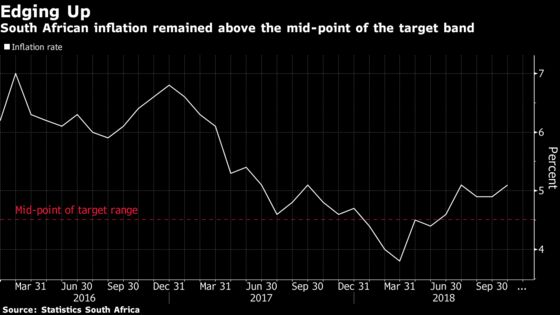 While inflation has been inside the 3 percent to 6 percent target band for 19 months, the Reserve Bank prefers the rate close to 4.5 percent, a level it was last in the middle of this year.
Consumer prices rose 0.5 percent in the month. Core inflation, which exclude the cost of food, non-alcoholic beverages, energy and gasoline, was unchanged at 4.2 percent for the third month.
The price of 95-octane gasoline in Gauteng province, which includes the economic hub of Johannesburg climbed 22 percent from a year earlier in the month.
The central bank's Monetary Policy Committee will announce its benchmark interest decision Thursday. Of the 21 economists in a Bloomberg survey, 11 forecast the Monetary Policy Committee will increase its key rate by 25 basis points to 6.75 percent and the rest predict an unchanged stance.
Recent oil-price weakness and gains in the rand could reduce inflationary pressures in November. Price-growth expectations, as measured by the five-year breakeven rate, are at the lowest since August.
The "doves will think 'Aha! So the SARB doesn't have to hike after all'. We however think the reasons for the tightening have more to do with the inflation outlook two years down the line, than the print for last month," Razia Khan, Standard Chartered Bank's chief economist for Africa and the Middle East, said in an emailed note.