South Africa GDP Growth Slows as Local Investment Shrinks
(Bloomberg) -- South Africa's economic growth slowed less than expected in the fourth quarter as domestic fixed investment slumped.
Annualized growth in gross domestic product eased to 1.4 percent in the final quarter from a revised 2.6 percent the prior three months, Statistics South Africa said Tuesday in the capital, Pretoria. The economy grew 0.8 percent in 2018 compared with a revised 1.4 percent in the prior year.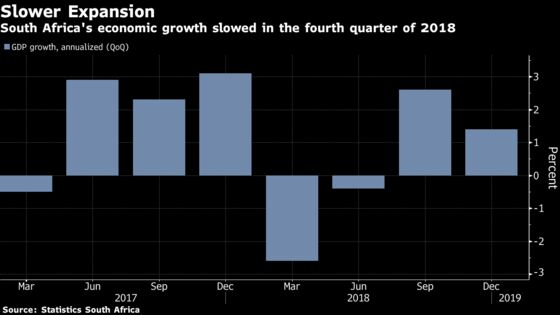 The median estimate of economists surveyed by Bloomberg was for expansion of 1.2 percent in the fourth quarter.
Gross fixed capital formation fell 2.5 percent, a fourth straight quarter of declines, driven by a drop in machinery, residential buildings and construction work, the statistics agency said.
"The investment demise continues," Jeffrey Schultz, senior economist at BNP Paribas South Africa, said by phone. "Binding constraints of a weak labor market, unstable electricity supply and policy uncertainty will persist post elections on May 8 and keep us cautious on the outlook. The persistence of a negative output gap and suppressed inflation should all bode in favor of keeping the policy rate stable in 2019."
Expenditure on GDP rose an annualized 1.6 percent. Household spending climbed by 3.2 percent.
The economy expanded 1.1 percent in the fourth quarter from a year earlier.
Africa's most-industrialized economy hasn't grown by more than 2 percent a year since 2013 and is battling to gain momentum despite political changes in late 2017 and early 2018, as businesses and foreign investors seek real reforms.
President Cyril Ramaphosa's ability to implement growth-enhancing reforms have been hindered by politics as a faction of his ruling African National Congress remains aligned to scandal-ridden former President Jacob Zuma. Ramaphosa must win a strong mandate from the electorate to cement his power.
The government and central bank see the economy expanding by 1.5 percent and 1.7 percent respectively in this year.
The rand strengthened for the first time in six days against the dollar, gaining 0.7 percent to 14.1357 by 12:45 p.m. in Johannesburg. Yields on rand-denominated government bonds due in December 2026 fell 4 basis points, the most since Feb. 26, to 8.69 percent.
What Our Economist Says ...
The headline figure was better than expected, but the heavy dependence on private consumption carries risks for the longevity of the current expansion. We expect the sharp drop in fuel prices in January and December to give further impetus to consumption in the first half of 2019, but risks to the rand and power supply is likely to continue to inhibit investment. The risks to our 1.4 percent growth forecast for this year are increasingly tilted towards the downside.

 -Mark Bohlund, Bloomberg Economics