S. Africa Data Suggest Marginal First-Quarter Growth
Key South African data suggest a marginal increase in output in the first quarter after the economy contracted the most in a century in 2020 because of the coronavirus pandemic.
Manufacturing and mining production, and retail sales rose slightly in the three months through March compared with the previous quarter. The country was at the so-called virus alert-level 3 for part of the first quarter after a second wave of Covid-19 cases, which means some economic activity was restricted.
Mining and manufacturing comprise almost a quarter of gross domestic product, while trade, which includes the retail sector, contributes 16%.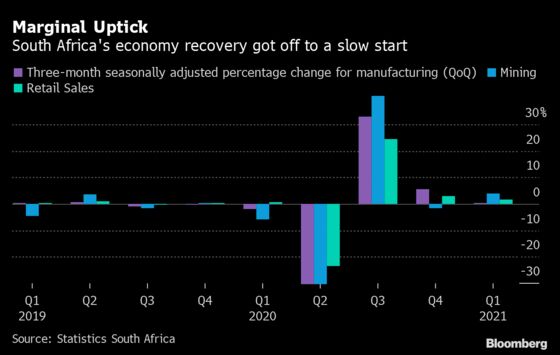 The statistics agency is scheduled to publish GDP data for the first quarter on June 8, when it'll drop the focus on annualized growth and change the base year for the data to 2015 from 2010.
After shrinking 7% as the virus ravaged output and disrupted trade in 2020, the economy is expected to recover off the low base this year. The National Treasury sees expansion of 3.3% but only estimates GDP recovering to pre-pandemic levels in late 2023.
An anticipated third wave of Covid-19 infections and slow rollout of vaccines could lead to a reintroduction of stricter lockdown measures, while a resumption of rolling power outages may also curb the rebound. Still, high commodity prices and strong global economic prospects should offer some support, according to Elna Moolman, a South Africa economist at Standard Bank Group Ltd.
What Bloomberg Economics Says...

"South Africa's slow pace of vaccine rollout will continue to leave it vulnerable to repeat waves of infection, making for very choppy growth this year. We see weak growth in the first half, with slower growth in 2Q as a result of an imminent third wave of infections and the withdrawal of Covid-19 social-relief grants and Temporary Employee/Employer Relief Scheme. The economy should turn around however, in the second half as more people get vaccinated and the global recovery gathers pace."

-- Boingotlo Gaselahwe, Africa economist