South Africa Current-Account Gap Narrows From Two-Year High
(Bloomberg) -- South Africa's current-account deficit for the second quarter narrowed from the biggest in two years as the trade balance switched to a surplus, countering a slightly larger shortfall on the services, income and current-transfer account.
The gap on the current account, the broadest measure of trade in goods and services, narrowed to 3.3 percent of gross domestic product in the second quarter, the Pretoria-based South African Reserve Bank said in a statement Thursday.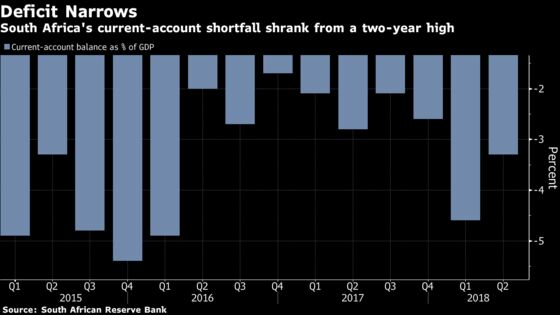 The smaller shortfall could ease pressure on the rand, which slumped 14 percent against the dollar in the three months through June, the worst-performing major currency after Brazil's real, raising the cost of imports. Current-account deficits are seen as major vulnerabilities and have added to turmoil in emerging markets.
The rand extended losses against the dollar and fell to the weakest in more than two years this week after news that the economy had plunged a recession.
Africa's most-industrialized economy reported a trade surplus of 42 billion rand ($2.7 billion) in the second quarter as the value of net gold and merchandise exports increased more than that of imports. The shortfall on the services, income and current-transfer account widened to 206 billion rand, the central bank said.