South Africa Consumer Mood Muted by Fuel Price Hikes, Power Cuts
South African consumer confidence was largely flat in the fourth quarter as record-high fuel prices, a resumption of rolling blackouts, protests and supply-chain disruptions kept sentiment muted.  
A quarterly index measuring sentiment rose to -9 in the three months through December from -10 in the previous quarter, FirstRand Ltd.'s First National Bank said in an emailed statement Tuesday. While the level, last seen in the first quarter, matches the reading recorded prior to the onset of the coronavirus pandemic, the index remains below the average consumer-confidence reading of 2 since 1994 and denotes depressed sentiment, it said.
Most of the fieldwork for the survey was completed before South African scientists announced that they'd identified the omicron variant of the coronavirus, the Johannesburg-based lender said. The subsequent reintroduction of travel bans and concerns about the efficacy of existing Covid-19 vaccines against the new variant may weigh on consumer sentiment in the coming months, it said.
"Whereas international travel restrictions typically affect the sentiment of affluent consumers, low- and middle-income households will arguably suffer the most in terms of job creation and income prospects if the expected bumper tourist season does not materialize and lockdown restrictions once again hammer the hospitality sector during the holidays," said Siphamandla Mkhwanazi, a senior economist at FNB.
Data shows confidence across income groups remains deeply negative at broadly similar levels heading into South Africa's summer holiday season. Confidence among high-income households that earn more than 20,000 rand ($1,246) a month remain unchanged, while that of the middle-income and least-affluent consumer group that earns less than 2,500 rand recorded marginal improvements.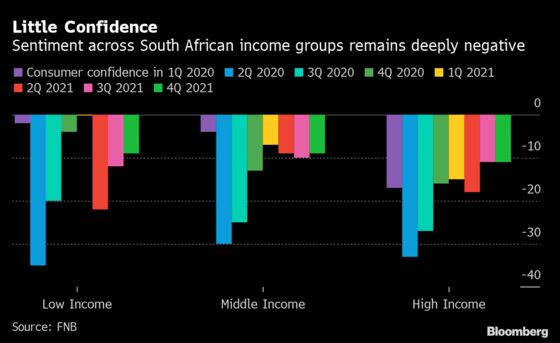 The slight increase in overall consumer confidence was driven by small improvements in the economic outlook and household financial position sub-indexes, FNB said. Still, consumers remain pessimistic about whether it's the right time to purchase big-ticket items such as vehicles, furniture and household appliances, the lender said