South Africa Consumer Confidence Stuck at Two-Year Low
South African consumer confidence remained trapped at a two-year low and economic prospects are expected to worsen.
The consumer-confidence index stayed at -7 in the fourth quarter, FirstRand Ltd.'s First National Bank said in an emailed statement on Tuesday. That's still the lowest level since the final three months of 2017 and well off the record high of 26 when Cyril Ramaphosa took over as president two years ago.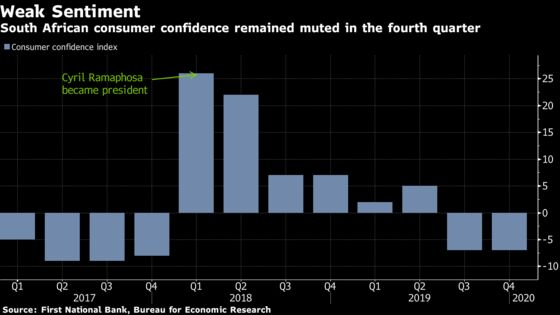 Business confidence in Africa's most-industrialized economy is already at the lowest in more than three decades. Weak economic growth, record-high unemployment and the country's ongoing electricity-supply crisis and financial woes are now also hitting consumer sentiment. This survey was conducted before the country was hit by the deepest power cuts yet early in December.
Retail-sales growth slowed to the weakest level in seven months in October and while business may have been boosted somewhat by trade over the festive season, the impact won't last long. The economic-outlook index rose to -14 from -17, which means the majority of consumers still expect South Africa's economic prospects to deteriorate over the next 12 months. The index measuring the appropriateness to buy durable goods, such as vehicles and furniture, fell to -18 from -15.
"The confidence gains since Mr. Ramaphosa's election have now been completely reversed and South Africa's grim economic reality has become apparent to consumers," FNB said.