S. Africa Central Bank Sees Higher Rates to Curb Inflation
(Bloomberg) -- The South African Reserve Bank sees higher interest rates in the next two years to help contain accelerating inflation.
The central bank's quarterly projection model forecasts a benchmark rate of 7.7 percent by the end of 2020 compared to 6.5 percent currently, it said in its six-monthly Monetary Policy Review released Monday in Pretoria, the capital.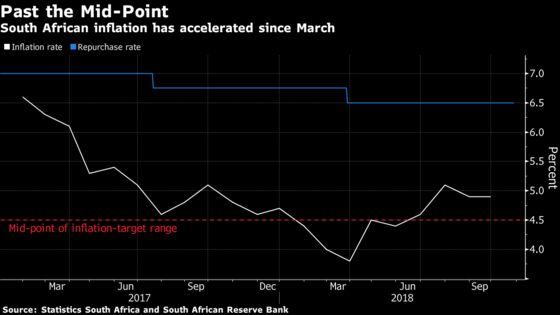 While policy will remain accommodative to help support the economy, this suggests a higher repurchase rate "to keep up with accelerating inflation and the fact that funding for emerging markets is no longer as readily available as it used to be," the central bank said.
A weaker currency and higher oil prices have compounded a dilemma for South African policy makers as they try to balance containing inflation that's projected to accelerate toward the top end of its target range of 3 percent to 6 percent, and domestic demand that remains benign after the economy fell into a recession. Economic growth is seen slowing to 0.7 percent in 2018.
The central bank has made it clear it prefers inflation, which was 4.9 percent in September, close to 4.5 percent. The rate is projected to remain above that in the medium term, according to the Monetary Policy Review, fueled by price-growth expectations.
The Monetary Policy Committee, which cut rates in March, will announce its next policy move on Nov. 22. Three of the seven panel members voted for a 25 basis points increase last month, when the rate was held at 6.5 percent.
"The repo rate is below what it should be" and has been accommodative since the start of 2018, Governor Lesetja Kganyago said at a forum after the release of the report.
The rand has lost 15 percent against the dollar this year and is "significantly undervalued," according to the report. The Reserve Bank has in the past said it won't intervene to prop up the rand unless the orderly functioning of markets is threatened.
"Although we have talked about raising interest rates, we are not contemplating emergency hikes of hundreds of basis points, like those recently implemented elsewhere," Kganyago said in the foreword to Monday's report.
The rand's real effective exchange rate is forecast to strengthen to just over 14 rand per dollar by the middle of next year, according to the policy review. The currency was 0.6 percent stronger at 14.6386 per dollar by 7:22 a.m. Tuesday in Johannesburg.