Amazon, Airbus, Bandai Namco, JB Hi-Fi, Campbell: Sohn Australia
(Bloomberg) -- A side bet on big miners, a Japanese game maker and the world's first company that could hit $2 trillion in market value are just some of the top stock picks presented at the third annual Sohn Hearts & Minds Australia conference, according to the Australian Financial Review on Friday.
These are the 15 stocks highlighted so far at the conference, held for the first time in Melbourne. Of the picks presented today, 10 will be selected for a listed investment company.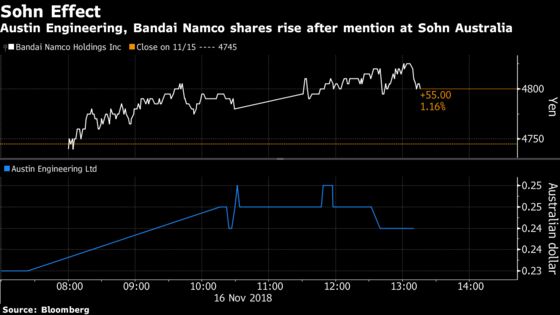 Austin Engineering Ltd. (ANG AU)
This small cap mining equipment provider is in a prime position to get business from big miners who were delaying the replacement of equipment until prices fell, said Alex Waislitz, founder and executive chairman at Thorney Investment Group, the Australian Financial Review reported.
Shares in Austin jumped as much as 8.7 percent to A$0.25, before closing up 4.4 percent at A$0.24. Trading volume exploded by more than fourfold of the three-month daily average.
Bandai Namco Holdings Inc (7832 JT)
The Japanese game maker has the potential to rise by more than 50 percent in the next "little while," said Geoff Wilson, chairman of Wilson Asset Management, according to the AFR.
The company has a low valuation, strong sector dynamics and strong intellectual property, Wilson said, according to the newspaper.
Bandai Namco shares rose 1.2 percent to a record 4,800 yen.
The agricultural chemical manufacturer is great value at today's prices, said Blake Henricks, deputy managing director at Firetrail Investments. That's in part to it having a technology that "earns nothing but is worth $1 billion," the AFR reported.
The problem of over-fishing will work in Nufarm's favor, as humans need a source of Omega 3 that could also be grown from plant-based canola, Henricks said, placing a value on the company of A$10.40.
Shares in Nufarm closed 1 percent higher at A$5.91, after climbing as much as 5 percent.
According to Emma Goodsell, portfolio manager at Airlie Funds Management, Reece's July purchase of U.S. plumbing company Morsco Inc. was a logical move owing to the Australian firm's owner-management structure.
"They have maintained fantastic returns by investing in the business," Goodsell said, the AFR reported.
Store openings in the U.S. and increased margins could add as much as A$4 to its current share price, Goodsell said.
Reece shares rose as much as 2.6 percent on the recommendation, before falling 0.8 percent to A$10.68.
Amazon.com Inc. (AMZN US)
Amazon could be the first U.S. company to hit a $2 trillion valuation, said Nick Griffin, chief investment officer at Munro Partners, according to the AFR.
Amazon's valuation has been relatively stable at about 20 times Ebitda, which is just a 40% premium to a standard consumer company, Griffin said. The company sits at the start of two "growth runways" he said, forecasting an enterprise value of $2.3 billion by 2025.
Amazon shares rose 1.3 percent in New York, with U.S. based Piper Jaffray analyst Michael Olson saying overnight the company looked like a "champagne stock on a beer budget."
Campbell Soup Co. (CPB US) & Airbus (AIR FP)
Chris Demasi at Montaka Global Investors suggested shorting the convenience food provider and going long on Airbus.
Campbell Soup has fallen behind in R&D and lags behind the rest of the market, he said. The stock could drop another 50 percent next year. On Airbus, Demasi said its share price"about to take off" on growing demand and unmatched expertise.
Tim Carleton, portfolio manager at Auscap Asset Management, says he's long on the Australian retailer, among the most shorted stocks on the S&P ASX 200, the AFR reported.
JB Hi-Fi is a "screaming bargain" that is well run and highly cash generative, Carleton told the conference.
Shares fell 1.3 percent in Sydney trading, taking this year's loss to 5.3 percent.
Other ideas that have been presented so far include:
Sirius XM Holdings Inc. (SIRI US): Peter Cooper, managing director and CIO at Cooper Investors
Venustech Group Inc. (002439 CH): Kok Hoi Wong, founder and CIO of APS Asset Management
Yangtze Optical Fibre and Cable Joint Stock Ltd. (6869 HK): Christina McGuire, Elephant Asset Management
Kar Auction Services Inc (KAR US): Steven Glass, a portfolio manager at Pengana Capital
PagSeguro Digital Ltd. (PAGS US): Beeneet Kothari, Tekne Capital Management
Lear Corp. (LEA US): Paul Mason, senior analyst at Paradice Investment Management
Docusign Inc (DOCU US): Babak Poushanchi, Cota Capital's founder and managing partner