Lose Fat and Tighten Your Abs, Just By Lying There
(Bloomberg Businessweek) -- "Some people call it 'roids without the rage," explains Dr. Ryan Neinstein, a ­board certified plastic surgeon on the Upper East Side of Manhattan. He's describing a new technology that zaps his patients' ­abdominal and gluteal ­muscles to the tune of thousands of crunches and squats in one session. "We like to say it's 'athletic meets aesthetic.' "
The FDA-approved EMSculpt machine sends high-­intensity, focused electromagnetic waves into the body, provoking intense muscle contractions in select areas. It can be uncomfortable, but it's not painful—and there's little ­soreness afterward. Unlike the similar e-stim "As Seen on TV" staples of late-night ­infomercials, according to Neinstein, after four ­visits in two weeks, his clients see results. A clinical study of 22 users showed that patients experienced an average 20 percent reduction in body fat in that time, and a 15 percent increase in muscle in their stomachs and butts.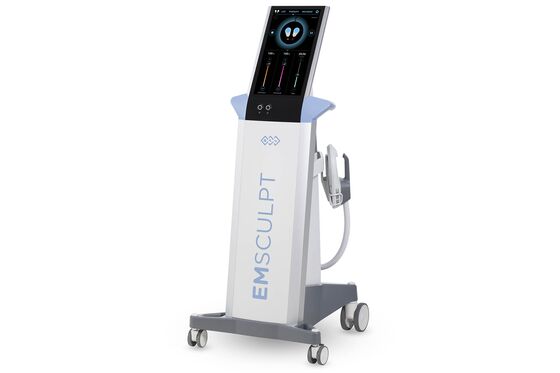 While the device isn't approved to target other parts of the body, it's the tip of the spear when it comes to effortless exercise. Doctors at ­clinics such as Glow Medispa in Seattle and AW Plastic Surgery in Portsmouth, N.H., are exper­iencing high demand for the treatment.  "They're seeing a good improvement," reports Anthony Wilson, a board certified plastic surgeon at AW. "In the buttocks they're seeing a nice lift. In the abdomen people are getting from a near six pack to a real six pack."
The procedure is expensive. Four visits to Neinstein's office cost a total of $3,000.
"Within two weeks you should be able to get the equivalent of a year's worth of gains in your core or your buttock," Neinstein says. But "in no way are we using this machine to replace exercise. It's really helping the busy ­person who's got a job, a family, commitments. They're still eating well, they're still exercising, but not everyone can go to the next level." 
To contact the editor responsible for this story: James Gaddy at jgaddy@bloomberg.net, Justin Ocean