Sony Paid $2.3 Billion for That Huge Guidance Boost
(Bloomberg Opinion) -- Sony Corp. just raised its full-year operating-income guidance by 30 percent, or 200 billion yen ($1.77 billion).
That's a powerful message to investors that the company is doing a good job of leveraging its games business to extract ongoing revenues. Software, PlayStation 4 hardware, a favorable exchange rate and PS Plus membership were all cited for raising the revenue estimate for that division by 8 percent. This in turn spurred Sony to boost its operating-profit guidance for that unit by 24 percent to 310 billion yen.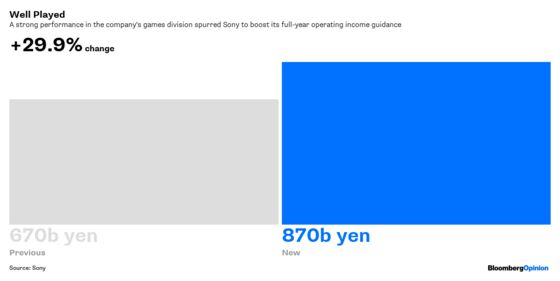 But the games division isn't the main reason for this more optimistic outlook.
Instead its buyout of EMI Music Publishing Ltd. was the single largest contributor, accounting for 55 percent of that extra full-year operating income. Sony doubled the expected figure at its music division to 230 billion yen.
The impact is twofold. First, Sony already owned 40 percent of EMI Music Publishing. So when it bought out the rest of the company, at an inflated price, it got to actually raise the value of the existing stake. Second, consolidation of the fully owned entity in itself helps boost the bottom line. The result is a 110 billion yen increase in operating income for the price of $2.3 billion in cash, plus around $1.4 billion in assumed debt.
Music publishing may end up being the cash cow that CEO Kenichiro Yoshida hopes it will be. But before investors cheer too loudly, it's worth noting that much of this year's guidance boost is a pure non-cash accounting adjustment.
This column does not necessarily reflect the opinion of the editorial board or Bloomberg LP and its owners.
Tim Culpan is a Bloomberg Opinion columnist covering technology. He previously covered technology for Bloomberg News.