Sony Hikes Profit Forecast on Rising Image Sensor Demand
(Bloomberg) -- Sony Corp. raised its profit forecast for the second time this fiscal year, boosted by strong demand for the image sensors that power smartphone cameras.
Operating income will probably reach 880 billion yen ($8.1 billion) in the year ending March 31, compared with the 840 billion yen Sony forecast in October and the 877 billion yen average of analysts' projections, according to data compiled by Bloomberg. Sony also plans a 45 yen per share annual dividend, up from 35 yen last year.
The company's shares opened as much as 2.7% up in Tokyo on Wednesday.
Kenichiro Yoshida, the former chief financial officer who became chief executive in 2018, is investing heavily in the image sensor division, while deemphasizing more traditional business. Customers like Apple Inc. are adding more cameras into each phone -- such as the iPhone 11 and 11 Pro that launched in the fall -- leading to greater demand in spite of a mostly stagnant smartphone market.
"Our image sensor factory has been operating at its full capacity and sales are stronger than our expectations," Chief Financial Officer Hiroki Totoki said at a briefing in Tokyo. "We haven't been able to stock up inventories we had hoped for."
Sales of image sensors soared 40% in the quarter to 261.6 billion yen, prompting Sony to raise its full-year target for the business about 6% to 940 billion yen.
The Tokyo-based company forecast revenue for the fiscal year of 8.5 trillion yen, slightly higher than its earlier projection.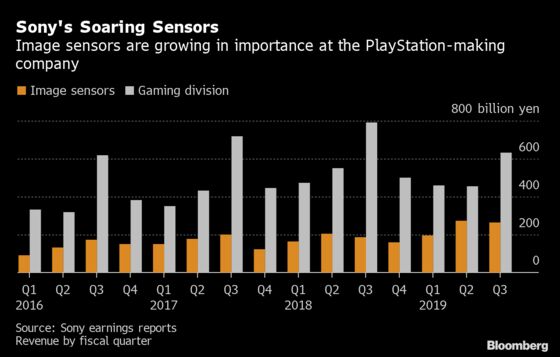 "Despite a large and transition-led slowdown in games, Sony has managed to deliver impressive earnings growth," Jefferies Group analyst Atul Goyal wrote in a report. Sony "still left plenty of room to beat" its full-year operating target in the final quarter, he added.
The PlayStation division has cut forecasts as Sony grapples with diminishing demand ahead of the PlayStation 5 debut at the end of the year. Revenue in the games unit dropped 20% in the quarter as the company sold fewer consoles and game titles. Sony lowered its full-year sales outlook for the business about 3% to 1.95 trillion yen and cut its operating profit target by about 2%.
"Sales from game hardware may continue to suffer along with software as studios have less incentive to release popular titles for the aging PlayStation 4," said Bloomberg Intelligence analyst Ian Ma ahead of Sony's earnings report.
Operating income for the fiscal third quarter was 300.13 billion yen, compared with an estimate of 271.65 billion yen.
Sony also raised its full-year revenue forecast for the financial services business by 10%, citing improved investment performance in its insurance operations. It trimmed the sales outlook in the electronics division on lower-than-expected demand for televisions, digital cameras and broadcast products.
At the press conference in Tokyo, CFO Totoki got several questions about the coronavirus and how it could affect the business. Many customers incorporate Sony's image sensors into smartphones and camera modules assembled in China so disruption is a risk, while production stoppages could also affect the supply of PlayStation 4 consoles, he said. Whether Sony will meet the new full-year targets depends on the severity of the virus outbreak, Totoki said.
"We can't rule out the possibility that the impact will be significant enough to force us to roll back" the higher earnings targets announced today, Totoki said.