Sony CEO Gives Cautious Outlook as Loeb Seeks an Opening
(Bloomberg) -- Sony Corp. said its operating profit will likely fall this year and pulled its financial forecasts for most divisions because of substantial uncertainty in their operations.
Operating profit will be 810 billion yen ($7.3 billion) in the year ending March 2020, down from last year's 894 billion yen and below the 843 billion yen average of analyst estimates compiled by Bloomberg. For the three months ended in March, operating income came to 82.7 billion yen, surpassing the 69.1 billion yen average projection.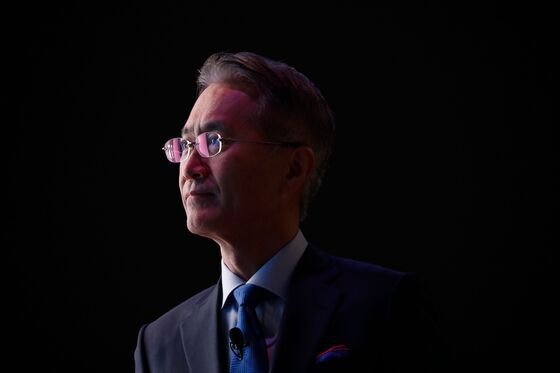 Sony Chief Executive Officer Kenichiro Yoshida is known for providing conservative guidance, a practice he honed helping to lead the Japanese icon through a turnaround over the past five years. Still, he now needs to balance that caution with confidence to guard against activist investors like Daniel Loeb, who is once again circling the company. Sony vowed deep cuts in its troubled mobile division to help pay for the rising costs of developing a successor to its PlayStation 4 game console.
"We just need to see some stability," said Freddie Lait, chief investment officer at Latitude Investment Management in London, which owns Sony shares. "If they can just demonstrate that earnings aren't going to fall off a cliff, and they're going to stabilize roughly here, the re-rating for the next three years could be very positive for the stock."
Sony's U.S.-listed shares climbed almost 8 percent after the results. The stock had fallen 2.1 percent this year prior to the results, compared with a 8.3 percent rise in the benchmark Topix. Japan is heading into a prolonged holiday, with trading in Tokyo restarting only May 7.
In a surprising move, the company pulled medium-term profit targets for electronics and entertainment that it had set less than a year ago. Chief Financial Officer Hiroki Totoki later told journalists that a major acquisition in music, big growth in game software sales, and losses in mobile made it difficult to predict future profits with enough certainty.
"Taking all of this, we thought that perhaps it would be a bit misleading to discuss only the 2020 fiscal year," said Totoki. "For us, it is more meaningful to focus on the cumulative total."
The company's phone business, called Xperia, recorded a 41.1 billion yen loss in the latest quarter. But Totoki told reporters after the results the unit will speed up cost-cutting by shuttering production in Beijing and withdrawing from markets including the Middle East and South America.
Sony last month announced it will merge the Xperia unit with its other electronics businesses -- cameras, TVs and audio. It forecast an operating profit of 121 billion yen for the new division this fiscal year, up 58 percent from the prior period due to cost cuts in mobile.
In games, its most important unit, Sony forecast that operating profits will fall by 10 percent to 280 billion yen this fiscal year, citing rising costs in research and development of its next-generation console. It expects to ship 16 million PS4s this period, down from 17.8 million last year.
"The results weren't as bad as the market feared," said Makoto Kikuchi, founder of Myojo Asset Management Co. "Specifically in games, the market expected a very low forecast, but it came out just a bit lower. It shows that they've made games into a division which can permanently generate high earnings."
The division faces a big challenge to top last year's performance, when blockbusters like God of War drove record earnings. This year's lineup consists of lesser-known titles, and Sony has said it won't have a big presence at Electronic Entertainment Expo in June, where it has historically announced major games. Last week, the company said the PS4's successor won't go on sale this year, giving competitors a chance to win consumers over with new hardware.
Operating profit in chips will be 145 billion yen in the coming year, slightly higher from the 143.9 billion yen in the prior period. Despite a broad decline in smartphone shipments, Sony has weathered the slowdown as handset makers cram more of the company's camera chips into each device.
"In the near term, growth in games and chips doesn't look great, but Yoshida is building a good foundation for the long term," said Yoshiharu Izumi, a senior analyst at SBI Securities Co.
Sony held 1.47 trillion yen in cash on its balance sheet as of March, mostly unchanged from December. In February, Yoshida authorized the company's biggest-ever share buyback. More stock repurchases will be key to defending against activist calls for more aggressive measures, including asset sales.
"What I'm looking for from Yoshida-san is more stability, not necessarily huge growth from here," said Latitude's Lait.