Sony's New CEO Sets Low Bar With Conservative Mid-Term Targets
(Bloomberg) -- Sony Corp., once known for pushing the boundaries of technology, is starting to look a little bit boring under Kenichiro Yoshida.
The new chief executive officer's reputation as a stoic numbers guy was demonstrated on Tuesday when he unveiled mid-term targets for the first time as chief executive officer, predicting conservative profit growth across most divisions over the next three years as the company focuses more on content and services.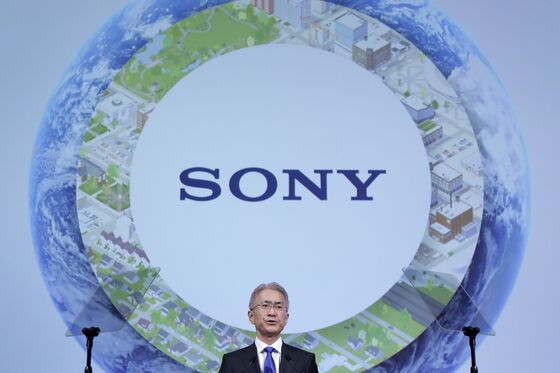 The strategy announcement echoed results issued less than a month ago, when Yoshida gave an outlook for the current year that set a low bar and jolted investors. The shares fell 2 percent on Tuesday, the biggest decline since May 1, the day after the earnings report. While the former chief financial officer said the goal is to generate "high profitability" in electronics, entertainment and financial services, the biggest news of the day was Sony's agreement to buy EMI's music catalog for about $2 billion.
"As a former finance executive, Yoshida isn't the type to make unrealistic predictions, and this mid-term plan plays it safe," said Hiroshi Kato, general manager at Chibagin Asset Management.
Sony even predicted a decline in the game and networks business, forecasting operating profit of 130 billion to 170 billion yen ($1.2 billion-$1.5 billion) by March 2021, compared with the current year's outlook for 190 billion yen. Music profits will be 110 billion to 130 billion yen, up from 112 billion yen, while movies will bring in 58 billion to 68 billion yen, compared with 42 billion yen.
"I'm not putting much of my color on this mid-term plan," Yoshida said in a speech in Tokyo. "Our vision of moving people's emotions is unchanged. Our message this time is to pursue that further."
The measured outlook comes as Yoshida seeks to push Sony toward more-predictable and stable profit streams from gaming subscriptions, online content and intellectual property licensing. At the same time, he expects to sell fewer hardware products — televisions, digital cameras, smartphones and PlayStation consoles — as the rise of Chinese manufacturing has turned gadgets into a business with razor-thin profit margins.
"It's quite disappointing," David Dai, an analyst at Sanford C. Bernstein & Co., said of the forecasts. "He's really set a low bar, too low for investors."
Sony is targeting operating cash flow of at least 2 trillion yen over the next three years. Capital investments will total 1 trillion yen, while the rest is earmarked for strategic investments, bolstering the balance sheet and shareholder returns, the company said. Yoshida said he made a deliberate choice not to set an overall operating profit target, which would have included Sony's finance division.
"We didn't want to be controlled by having to deliver that profit in three years time," Yoshida said. "That's why we're focusing more on the cash flow. We will continue discussions with our shareholders and investors on whether we need to show the three-year operating profit going forward."
The brightest spot was Sony's semiconductors business, which supplies camera chips for the iPhone and other high-end smartphones. Annual operating profit for the division will be 160 billion to 200 billion yen, up from 100 billion yen, the company said.
Investors have applauded the transformation toward content and services that's been under way since Kazuo Hirai took over as CEO in 2012, with the shares climbing more than five-fold amid a turnaround. Sony's mid-term plans have become more conservative in recent years, due in part to Yoshida being the CFO and Hirai's right hand.
In May 2015, Hirai first hinted the company was turning a corner in its years-long restructuring effort and predicted that operating profit could reach 500 billion yen by March 2018. Shares have climbed 60 percent since then as Sony ultimately surpassed that outlook.
Earlier on Tuesday, Sony announced the purchase of EMI Music Publishing, getting its hands on a catalog of 2.1 million songs from Beyonce, Carole King and other artists. The deal helps to solidify Sony's position as the largest music publisher amid a boom in streaming services that has fueled valuations for music copyrights.
"This investment is precisely what we need to boost our content intellectual property," Yoshida said of the deal. "Music is a recurring business and is on an important trajectory."
Sony will buy about 60 percent equity interest from a consortium led by Mubadala Investment Co. for about $2 billion, it said in a statement. The company already owns almost 40 percent of EMI, operates the business and had been in talks to buy the library for the past few months.