China's Gaming Green Channel Was Just a Loophole
(Bloomberg Opinion) -- Obviously China's move to close a loophole for online-game approvals is a negative development.
Yet a little perspective is warranted.
Let's recall what Tencent Holdings Ltd. President Martin Lau said about this back in August:
"If you can go through that green channel then you can actually have a one-month monetization testing, and that's acted as a relief for the entire industry."
So that route should be seen more as a workaround than a reliable method for getting new games out to the market. It was, in Lau's words, a relief. It wasn't a solution.
Tencent, at least, already saw the impact: Second-quarter revenue in the online-games division fell a record 12.4 percent from the prior three months. It would have been folly for investors to hold out hope that the green channel would reverse this trend.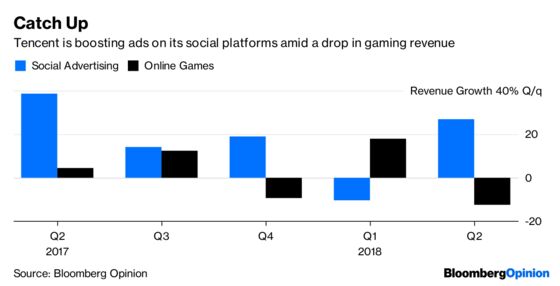 To compensate, Tencent has juiced revenue from social advertising. Earlier this year it opened up the spigot on its WeChat Moments feed to deliver up to two ads per user per day after capping it at just one. The company is also looking beyond content and social with a pivot toward corporate revenue.
While the closing of this green channel isn't wonderful for Tencent or its rivals, the worst damage had already been done.
This column does not necessarily reflect the opinion of the editorial board or Bloomberg LP and its owners.
Tim Culpan is a Bloomberg Opinion columnist covering technology. He previously covered technology for Bloomberg News.