Some Denver Gas Stations Ran Short of Fuel in Supply Kink
(Bloomberg) -- Dozens of gasoline stations in Denver and southern Colorado ran dry last weekend as pipeline work and a shortage of tanker-truck drivers delayed fuel supplies.
"It was enough of an outage to be a thing," said J. Skyler McKinney, regional public affairs director for the American Automobile Association in Colorado, with the pinch tightest in Pueblo, Colorado Springs and a small part of Denver. "Drivers might find that their favorite station is empty, but if they are willing to drive a few miles to find another station, or wait a few days, they should be fine."
The supply chain kink reveals the difficulty of Big Oil's rapid return from the pandemic energy slump, with pipeline work, unexpected outages and a shortage of fuel haulers causing supply issues. Gasoline demand is getting closer to 2019 levels, signaling a robust call for more fuel from the millions of consumers who skipped travel last year and worked from home.
Pipeline work was a factor behind the shortage in Colorado, which is supplied mostly by Denver-area and Wyoming refineries and fuel piped from the Midwest, McKinney said in an interview. The Magellan pipeline system was working on maintenance until a restart Saturday on conduits into the Aurora, Dupont and Fountain areas, spokesman Bruce Heine said. Supplies to the region were meeting customer needs Monday, he said.
The situation became tense at J.R.'s Country Store in Pueblo, when a Saturday delivery of 3,000 gallons to the gas station lasted only a few hours. Employees had to direct customers through a traffic jam outside the store, and some drivers cut each other off in attemps to get to the pumps.
"They were trying to pump gas before we had put the gas in," clerk Ledacee Saes said in an interview. "As much gas as we used that day, is usually what we go through in a week."
While a shortage of fuel truckers was another factor, McKinney said, the fundamentals of Colorado's gasoline market "are fine." Many Colorado stations were being refilled Monday and large retailers were able to keep tanks full by paying more for wholesale gasoline, he said.
The average retail price for Colorado gasoline rose 8 cents in the last week to top $3.30 a gallon while the national price was relatively unchanged at $3.07 a gallon, the auto club said on its website.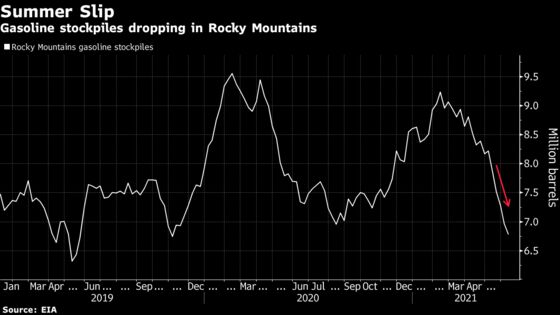 Colorado's gasoline supply was already tight before the shortages. Rocky Mountains stockpiles were at a seasonal six-year low earlier this month, Energy Information Administration data show. Demand is predicted to be so hot that Phillips 66 reversed the flow of one of its pipelines so it can carry gasoline from Texas into Denver as more tourists head west.
Truck stops and big-box retailers across the U.S. have been struggling to fill trucking jobs committed to fuel deliveries because few drivers are available.
Fuel haulers are losing out in hiring to truck fleets that don't haul hazardous cargo and pay attractive wages during the U.S. freight boom, Craig Fuller, founder of transportation data company FreightWaves, said in an interview. Months are needed for haulers to be certified and licensed to handle what is "essentially a rolling bomb on the highway," he said, further delaying their entry to the job market. Jobs in construction often are more attractive to potential drivers.
A fuel tanker like those crossing Colorado hauls about 8,000 to 10,000 gallons, enough to fill up about 400 empty Ford F-150 pickup trucks.