Solomon Jets Across Map to Woo Clients as His Goldman Era Begins
(Bloomberg) -- In a Four Seasons ballroom perched over Seattle's waterfront, David Solomon spent his ninth day atop Goldman Sachs like much of his short tenure so far: wooing clients.
The gathering Tuesday was another stop in the new chief executive officer's cross-country tour-de-force, this time to meet leaders from tech giants and other local companies. Among them were Luca Maestri and Amy Hood, finance chiefs of Apple Inc. and Microsoft Corp. Over sesame-crusted salmon and miso-glazed chicken, Solomon and a contingent of his top bankers pitched Goldman's wares.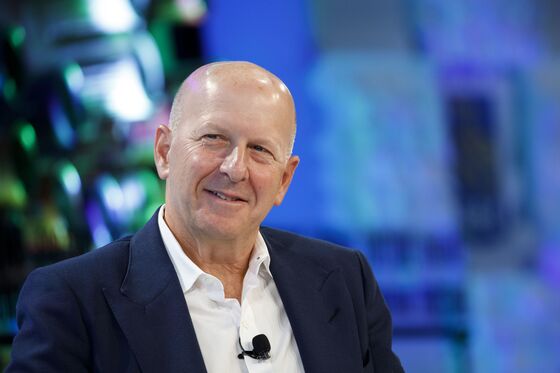 Every Wall Street leader says their reason for being is serving clients, but a look at how Solomon is spending his first two weeks running the bank shows he's trying to hit that note in a newly persuasive way. Details were provided by people with knowledge of his meetings who asked not to be identified.
The longtime investment banker succeeded former trader Lloyd Blankfein as CEO on Oct. 1. Solomon began that day by firing off a memo on a new initiative to be supervised by the company's president, John Waldron. The goal: creating a concierge service for major clients that will operate across the bank's main divisions.
The initiative's other senior leaders include U.S. equity sales chief Jack Sebastian, senior banker Alison Mass, and Sheila Patel, co-head of the firm's international asset-management operations.
In part, the effort is a response to the evolution of the bank's customers. Corporations, money managers and many other buy-side institutions no longer just deal with one arm of Goldman Sachs Group Inc. One day they might jostle with the bank's traders over credit derivatives. The next, they might enlist its advice on a multibillion-dollar acquisition -- or even look to invest alongside the bank in a private equity deal.
While Wall Street titans like Blackstone Group LP have generally been able to get Goldman's most senior executives to drop everything and cater to them, an effort like this is aimed at ensuring attention is also paid to their many other customers.
"Many of our clients are becoming broader and more complex as they build out their businesses," Waldron said in an interview. "Our response to them has to be much better."
If Solomon and Waldron succeed, Goldman Sachs may finally free itself from the mercenary image that took hold in the years surrounding the 2008 financial crisis, at times leaving clients leery, unsure whether they were necessarily getting the best end of a trade.
There was the infamous deal that prompted a "spank from Hank" back in 2006, when the former head of the firm sounded off on his bankers for not necessarily keeping the customers' best interests at heart. After the credit crisis, lawmakers pilloried the bank for treating clients as counterparties. And then there was the departure of Greg Smith, an executive who aired his grievances publicly, saying customers were referred to as muppets.
The effort isn't just about optics. In recent years, Goldman Sachs has lost the top spot in fixed-income trading to JPMorgan Chase & Co. and its wide swath of corporate clients. It's also lost the crown in equities trading to Morgan Stanley, a firm that's been buoyed by a vast retail brokerage.
Solomon's memo on Oct. 1 was sprinkled with phrases that have become contagious in corporate America: "One Goldman Sachs," "integrated approach" and "client service." Yet they hint at the legacy the 56-year-old hopes to build as the third CEO in Goldman Sachs's history as a public company.
"We want how we are viewed by our clients to improve," Waldron said. "That means evolving and providing a better set of services."
Solomon has been trying to evolve as well. Long known as a demanding boss at the investment-banking unit he led, he's been projecting a more likable, accessible personality over the past year.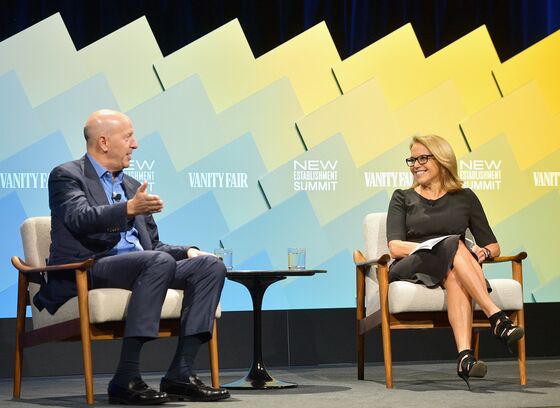 Just within the past two weeks, he's unveiled a new video series stitched together by a former cable news producer, a blog for the employees (that starts with a lofty "hi everyone") and even a company-approved Instagram account. And then, of course, there's his moonlighting as a DJ and his message to staff that it's OK to have a life outside work. He's scheduled to perform in Brooklyn on Saturday. Goldman Sachs reports third-quarter results Tuesday.
Meanwhile, he's been shuffling through airports since the start of last week. In the days before traveling to Seattle, he dropped in on a conference in Los Angeles, hosted Poland's prime minister for dinner in New York and rubbed shoulders with his bank CEO peers in Washington.
For some the symbolism counts.
"He seems to be a guy very committed to client relationships," MasterCard Inc. Chief Financial Officer Martina Hund-Mejean said in an interview. She met him at an event in Laguna Beach, California, last week on his first day as CEO and expressed surprise that the head of a firm like Goldman Sachs would start his tenure outside the office.
Analysts covering Goldman Sachs are hoping they will get some attention too when the firm posts quarterly results. They're eager to see whether Solomon might field questions on a conference call, something that Blankfein typically left to his deputies. One analyst, Wells Fargo & Co.'s Mike Mayo, said he's willing to turn the tables if necessary.
"If he doesn't turn up on the earnings call, maybe I'll have to turn up at one of his DJ'ing gigs," Mayo said.