SoftBank's Son Is Raising $21 Billion in IPO to Fund Tech Deals
(Bloomberg) -- SoftBank Group Corp. founder Masayoshi Son is seeking to raise 2.4 trillion yen ($21.1 billion) in an initial public offering of his Japanese telecom business that could be the country's largest IPO yet.
The Japanese technology giant said in a prospectus Monday it will sell 1.6 billion shares at 1,500 yen apiece in a new entity, SoftBank Corp., that will start trading on Dec. 19. At that price, the IPO would surpass the offering of former national carrier Nippon Telegraph & Telephone Corp. in 1987.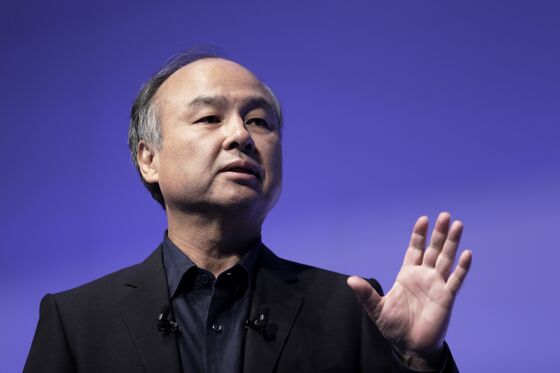 Son is listing the company's cash cow as he transforms SoftBank from a telecom operator into a global investment company, with stakes in marquee startups such as Uber Technologies Inc. and WeWork Cos. He's racing to complete the offering as Japan's wireless industry faces the threat of lower prices, with market leader NTT Docomo Inc. saying it plans to cut rates 40 percent in response to government pressure.
"Market sentiment is not as good as it used to be, and investor appetite may not be so strong," said Yasuhide Yajima, chief economist at NLI Research Institute in Tokyo. "Still, their focus is on data, AI and communication — industries where they can anticipate growth."
SoftBank is looking to tempt investors with a dividend payout ratio of about 85 percent of net income, according to the filing. Based on net income in the last fiscal year, that would work out to an almost 5 percent yield at the indicated IPO price.
"The dividend payout ratio is very high," said Masahiko Ishino, an analyst at Tokai Tokyo Research Center. "That provides an incentive."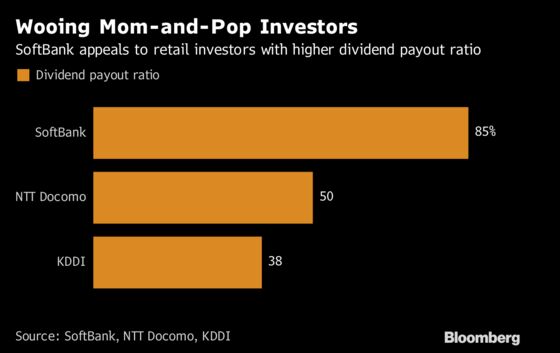 Son has shifted his focus in recent years to concentrate on technology investments, in the wake of successful bets on companies such as Alibaba Group Holding Ltd. and Yahoo! Inc. His $100 billion Vision Fund is the largest technology investment fund ever, and he has said he plans to establish similar sized funds every two to three years.
The Japan wireless business, valued at 7.18 trillion yen at the indicated price, would provide additional money for such deals. After the public listing SoftBank Group, the parent, will hold about 63 percent of the wireless unit.
Amir Anvarzadeh, a senior strategist at Asymmetric Advisors in Singapore, pointed out the valuation of the business is lower than earlier, bullish speculation that it could be worth 9 trillion yen. But the offering will have some positive implications for SoftBank Group, including by lowering its debt load.
The size and price of the offering have yet to be finalized of course, meaning that the amount of money raised could increase or decrease. "We think individual investors are likely to buy shares" given the yield, said Anvarzadeh.
The IPO price range will be set on Nov. 30, followed by the final price on Dec. 10. SoftBank has picked Nomura Holdings Inc., Goldman Sachs Group Inc., Deutsche Bank AG, Mizuho Financial Group Inc., JPMorgan Chase & Co. and Sumitomo Mitsui Financial Group Inc. among joint global coordinators. SoftBank is targeting individuals and Nomura will sell the biggest part of the shares to retail investors, people familiar with the matter said earlier this month.
SoftBank forecasts that the domestic telecoms operations, which include wireless, broadband and fixed-line services, will post 700 billion yen in annual operating profit. It has close to 34 million wireless subscribers in Japan.
Japan's mobile carriers have come under government scrutiny for high phone bills and convoluted pricing plans. In August, Chief Cabinet Secretary Yoshihide Suga said mobile carriers had room to lower bills by 40 percent, even as they step up spending to upgrade their networks. Docomo earlier this month said it plans to "return" 400 billion yen to customers, while KDDI said it won't follow along because it already introduced lower rates.
Son has said the competition won't hurt his company's profits. He said SoftBank aims to cut costs by trimming about 40 percent of the wireless business workforce, largely by introducing automation technology. Some employees will be reallocated to other parts of SoftBank.
SoftBank laid out numerous risks in the prospectus, saying Japan's mobile and home broadband markets are "approaching saturation." It also singled out Suga's comments this year about forcing carriers to lower rates, and cited pressure from Docomo's decision to slash fees.
"We may not be able to accurately predict, prevent or effectively react to new laws and regulations," SoftBank said in the prospectus. "Our ability to set prices for those services and products, could be limited."