SoftBank the Big Stack Bully Went Quiet Last Quarter
(Bloomberg Opinion) -- Masayoshi Son's SoftBank Vision Fund has been described as a "big stack bully" because of its ability to throw money around at the poker table of venture capital funding.
The fund doesn't appear to have done any net new deals in the September quarter.
According to data in its fiscal first-half filing, the fund had investments totaling $28.1 billion on 30 September 2018. That compares with $27.1 billion at the end of June.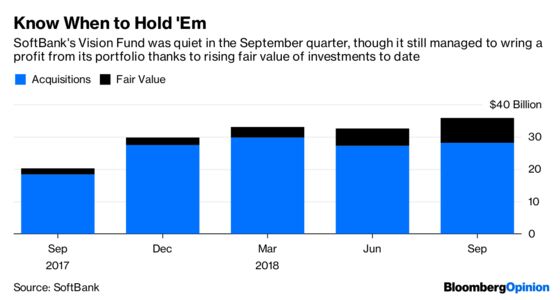 Two deals from its parent SoftBank Group Corp. seem to account for this minor boost:  
SoftBank Vision Fund acquired investments in Coupang and OYO from the Company in the second quarter
The Vision Fund bought that stake in e-commerce startup Coupang for $700 million and its slice of bookings provider OYO for $200 million.
That big stack isn't getting any smaller, though. On Oct. 19 the fund secured another investor who pledged $5 billion, taking committed capital to $96.7 billion. While management may not have been busy spending money, they haven't been sitting around.
This column does not necessarily reflect the opinion of the editorial board or Bloomberg LP and its owners.
Tim Culpan is a Bloomberg Opinion columnist covering technology. He previously covered technology for Bloomberg News.