SoftBank Seeks to Assuage Investors on Mobile Outage Before $23 Billion IPO
(Bloomberg) -- SoftBank Group Corp. and its bankers are holding emergency conference calls with institutional investors to address any concerns they might have after the carrier's mobile service went down days before a 2.65 trillion yen ($23.5 billion) initial public offering.
Three conference calls are being hosted at separate times and regions on Friday by Nomura Holdings Inc., Mizuho Financial Group Inc. and Goldman Sachs Group Inc., according to a document obtained by Bloomberg. SoftBank Chief Technology Officer Junichi Miyakawa and Chief Financial Officer Kazuhiko Fujihara will join the discussions. SoftBank shares fell as much as 3.3 percent in afternoon trading in Tokyo.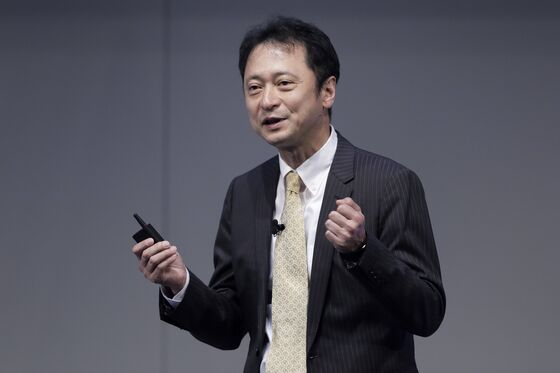 The IPO is fully subscribed, but SoftBank and its bankers are taking extra precautions in order to make sure that investors weren't spooked by the outage, which disconnected users across Japan for more than four hours on Thursday. The service failure blew up on social media and dominated evening news programs. As an extra step, the underwriters are also extending bookbuilding by an extra six hours until 5 p.m. in Tokyo on Friday, according to a person familiar with the plans, who asked not to be identified because the information isn't public.
Representatives for SoftBank and the three banks declined to comment on the calls and the bookbuilding. The calls will be held at 2 p.m. in Tokyo (Nomura), 10 a.m. in London (Mizuho) and 9 a.m. in New York (Goldman) on Friday to "explain the mobile network outage which occurred on Dec. 6," according to the document.
The outages were caused by a problem with software supplied by Ericsson AB and impacted mobile phone users in 11 countries, including Britain and Japan, according to a statement by SoftBank. The wireless carrier said it detected malfunctioning software in all of the packet switching machines installed at centers in Tokyo and Osaka, which cover mobile customers nationwide. The disruption lasted from 1:39 to 6:04 p.m. in Japan, the company said.
Including an overallotment of about 160 million shares, SoftBank is selling a total of roughly 1.76 billion shares at a preliminary price of 1,500 yen apiece. The final offering price will be announced on Dec. 10.
The underwriters already covered their entire book by Wednesday, thanks to strong demand from retail investors in Japan and overseas buyers, people familiar with the process said. They said more orders were coming from individual investors, which will probably push the stock above the preliminary price when trading begins on Dec. 19.
SoftBank and its bankers opted not to set a price range when they announced the preliminary figure of 1,500 yen per share last week. That was seen as a sign that the company and its bankers were confident of their ability to gauge demand. An underpriced debut would raise less cash, and could see the shares jump when market trading starts. On the other hand, an overpriced IPO carries the risk of leaving unsold shares on the table. The final price may still be adjusted, SoftBank said.
The telecommunications arm, which will trade on the Tokyo Stock Exchange as SoftBank Corp. under the ticker 9434, is a cash-generating business spanning wireless, broadband and fixed-line services. It has 34 million mobile subscribers. SoftBank founder Masayoshi Son is transforming his Tokyo-based company from a telecom operator into a global tech investor, but the listing comes at a time when Japan's wireless industry has come under pressure from the government to reduce phone bills. The entry of e-commerce giant Rakuten Inc. is also raising the risks of a price war next year.
Apart from Nomura, Mizuho and Goldman, the joint global coordinators include Deutsche Bank AG, JPMorgan Chase & Co. and Sumitomo Mitsui Financial Group Inc.