SoftBank to Stick to IPO Price Amid Global Stock Selloff
(Bloomberg) -- There's no need to change the price of SoftBank Group Corp.'s 2.4 trillion yen ($21 billion) initial public offering of its telecommunications unit, even though there's a global stock sell-off, people involved with the stock sale said.
SoftBank and its underwriters opted not to set a range when they announced a preliminary price of 1,500 yen per share last week, the first time that's ever happened on the Tokyo Stock Exchange. U.S. stocks tumbled overnight and the Nikkei 225 Stock Average fell as much as 1.5 percent in early trade in Tokyo, the third straight session of declines.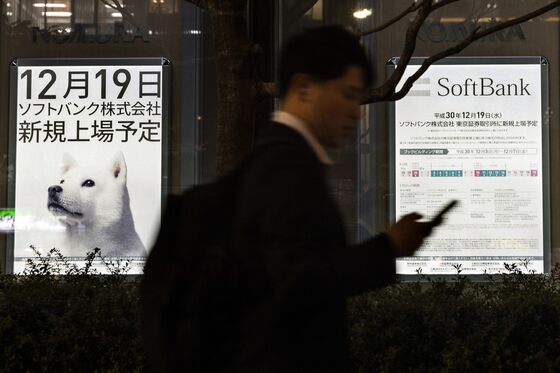 A pre-IPO price range usually gives a company and its bankers enough wiggle room to account for market gyrations, or changes in demand. The decision to set a single number was seen as a strong sign of confidence by underwriters ahead of the final pricing on Monday, Dec. 10. They remain confident the preliminary price will hold, said the people, who asked not to be identified because they haven't discussed their thinking publicly.
"There's a lot of reassurance in the market because institutional investors will probably have to include the stock in their portfolios," said Yasuhide Yajima, chief economist at NLI Research Institute in Tokyo. FTSE Russell said this week that it will include the stock in the FTSE Global Equity Index Series if it meets the criteria.
A representative for SoftBank declined to comment.
The underwriters are collecting orders now, with book building set to end on Friday. The shares will begin trading on Dec. 19. Founder Masayoshi Son and his bankers are betting that they will be able to sell all of the shares in the cash-generating business, which spans wireless, broadband and fixed-line services and has 34 million mobile subscribers. SoftBank is selling about 1.6 billion shares in the new entity, which will be called SoftBank Corp.
Including an option to sell more shares, the offering could climb to as much as 2.65 trillion yen. The Japanese billionaire is transforming his Tokyo-based company from a telecom operator into a global tech investor, but the listing comes at a time when Japan's wireless industry has come under pressure from the government to reduce phone bills. The entry of e-commerce giant Rakuten Inc. is also raising the risks of a price war next year.
Nomura Holdings Inc., Goldman Sachs Group Inc., Deutsche Bank AG, Mizuho Financial Group Inc., JPMorgan Chase & Co. and Sumitomo Mitsui Financial Group Inc. are among the joint global coordinators.