Banks Behind IPO of SoftBank's Unit Back $9 Billion Loan
(Bloomberg) -- SoftBank Group Corp. has lined up commitments for a loan of about $9 billion for its massive Vision Fund, provided by banks including arrangers of its Japanese wireless business's initial public offering, people with knowledge of the matter said.
The IPO's top underwriters, which include Nomura Holdings Inc. and Goldman Sachs Group Inc., have given non-binding assurances while they finalize terms of the loan to the Vision Fund, the people said. Stakes in around five of the investment fund's holdings will be used as collateral, according to the people, who asked not to be identified because the information is private.
Deutsche Bank AG, Mizuho Financial Group Inc. and Sumitomo Mitsui Financial Group Inc. were also among banks chosen to lead SoftBank's wireless unit IPO, Bloomberg News reported last week. Details of the loan are still being worked out, and terms could change, the people said. Meanwhile, Deutsche Bank and Goldman Sachs committed about $1 billion each, they said.
Representatives of SoftBank, Nomura, Goldman Sachs, Deutsche Bank and the brokerage units of Mizuho and Sumitomo Mitsui declined to comment.
Stakes in Vision Fund-backed companies including Uber Technologies Inc., WeWork Cos., Didi Chuxing and ARM Holdings Plc are being offered as collateral for the potential loan, two people said.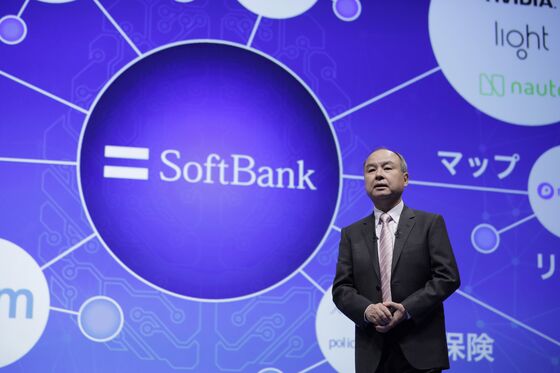 SoftBank, led by billionaire Masayoshi Son, had earlier told potential underwriters seeking a large role on the IPO that they should offer to lend to other parts of the parent company's empire, people with knowledge of the matter said last month. A representative for SoftBank said at the time there was "no truth" to the information.
Shares of SoftBank fell almost 1.5 percent at the close of trading on Thursday in Tokyo, paring their advance this year to about 8 percent.
Bank of America Corp., which is the third-largest lender to SoftBank, decided not to provide $1 billion in financing even if it meant forfeiting a lead role on the IPO as the lending terms were viewed as being too risky, people familiar with the matter said. The non-recourse loan that the other banks are providing will be backed by stakes in unlisted companies, which may pose a hurdle if SoftBank is unable to repay the debt or if the creditors want to sell the holdings to recoup their money.
The decision to abstain from the financing was taken by Bank of America's Chief Operating Officer Tom Montag in consultation with other executives, the people said. The U.S. firm has a bookrunner's role on the transaction, they said. A representative for Bank of America declined to comment.
The almost $100 billion-Vision Fund has holdings in companies including Slack Technologies Inc. and General Motors Co.'s self-driving car unit. It has already committed $65 billion since it began making investments nearly a year ago. Son said in a September interview that he plans to raise a new $100 billion fund every two or three years, and will spend around $50 billion annually.
SoftBank's wireless IPO could raise about 3 trillion yen ($27 billion), making it among the biggest in the world, data compiled by Bloomberg show. The largest so far was the $25 billion listing of Alibaba Group Holdings Ltd. in 2014. Banks vying for a role on Uber's listing have pitched a valuation of as much as $120 billion, people familiar with the matter said this week.
It remains to be seen how many of the mega IPOs being planned come to fruition, especially at the valuations now touted. A market rout last week led companies globally to postpone their multi-billion stock sales, from Spanish oil refiner Cepsa to Tencent Music Entertainment Group, the Chinese streaming giant that was aiming to sell shares in the U.S.