SoftBank Plunges Most Ever on Rising Concern Over Rout's Impact
(Bloomberg) -- SoftBank Group Corp. shares plummeted the most on record, adding to steep declines earlier this month as investors grow concerned about the Japanese company's debt load and investments with markets in tumult.
The stock dropped 17% Thursday, the worst decline since founder Masayoshi Son first listed his company in 1994. SoftBank has tumbled about 50% in just the past month, erasing as much as $50 billion in market value.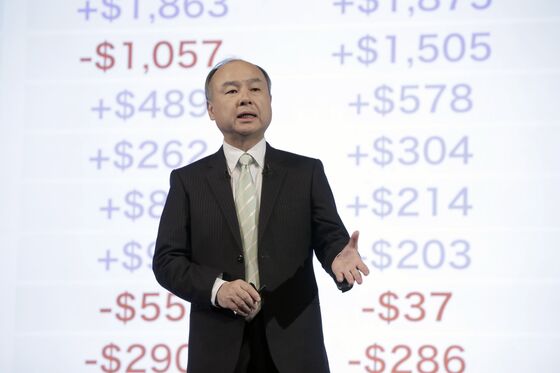 The Japanese billionaire is struggling to reassure investors about the stability of his empire amid fallout from the coronavirus. Its impact has hammered SoftBank portfolio companies like Uber Technologies Inc., which lost more than 30% of its value just this week. The rout spread to credit markets and sparked a surge in the cost of insuring debt against default, including that of SoftBank, whose credit-default swaps are now at the highest level in about a decade.
"You can't deny the possibility that massive paper losses at SoftBank could lead to its liabilities exceeding assets," said Makoto Kikuchi, chief investment officer at Myojo Asset Management Co. in Tokyo. "Then the company will not only be heavily in debt, it would also find further borrowing more difficult."
S&P Global Ratings cut its outlook on SoftBank to negative late Tuesday, citing the broad market declines and the conglomerate's plans for a share buyback. SoftBank shares fell 11% in Tokyo on Wednesday, at that point the largest decline since 2012.
SoftBank has said its financial policy is to have enough liquidity on hand to cover two years of bond repayments and focus on its loan-to-value ratio, a metric for balancing net interest-bearing debt against the value of investments. SoftBank has also said it's curbing new investments to match the current environment and acknowledged that fundraising costs are likely to rise.
There appears to be no real risk that SoftBank could default any time soon, according to Takahiro Oashi, a senior fund manager at Asahi Life Asset Management Co. SoftBank said it had 1.7 trillion yen ($16 billion) of cash and equivalents on hand at the end of December, and since then took out a 500 billion-yen loan. It's facing 1.68 trillion yen of bonds and loans coming due over the next two fiscal years and a total of about 3.6 trillion over the following four-year period.
The question is how the firm will weather a prolonged market slump.
"No one thinks that SoftBank is going to default now," said Oashi. "But as an investment company, SoftBank owns many investments such as tech companies that get hit particularly in this situation," he said. "SoftBank frustrated investors already with its assistance to WeWork last year, and its decision to buy back its own shares in this difficult time."
After WeWork flopped in its effort to go public last year, SoftBank organized a $9.5 billion bailout for the U.S. office-sharing startup and took a writedown on its investment. Through its $100 billion Vision Fund, SoftBank has taken stakes in scores of startups, including many with unprofitable businesses that could get squeezed with a capital crunch.
Uber is an example of how quickly their fortunes can reverse. Last month, when Son discussed earnings, he touted the sharp gains in the ride-hailing company's shares in the early months of 2020. He said the Vision Fund was up $1.5 billion on its investment, compared with a $1 billion paper loss at the end of December. But Uber shares have dropped about 60% since Son gave the presentation.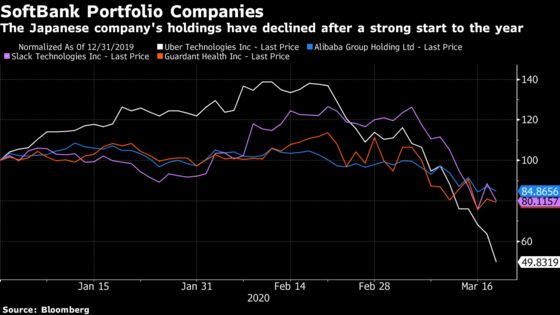 Meanwhile, Son is under pressure from Elliott Management Corp., which disclosed a stake in SoftBank last month. The U.S. activist investor has argued that the company's shares were undervalued and it should buy back as much as $20 billion. SoftBank said on March 13 it would spend up to 500 billion yen buying shares.
S&P responded by cutting its outlook for SoftBank, saying the decision "strongly underscores its aggressive financial management." SoftBank shares, which typically rally with a buyback, have dropped about 30% since the announcement.
Son has pointed out the assets he has to cover any debts. They include the group's stakes in Alibaba Group Holding Ltd., Arm Holdings Plc and SoftBank Corp., its domestic telecom arm. SoftBank keeps a running tally of what it calculates is the value of its shares, excluding its debt. That figure is now almost four times its stock price of 2,687 yen.
"It sure does look cheap now, but how do you make that judgment?" said Naoki Fujiwara, chief fund manager at Shinkin Asset Management. "The problem is that it's really hard to properly value SoftBank."
Son is taking steps to preserve cash. This week, the company told shareholders of WeWork that it could withdraw from an agreement to buy $3 billion of stock in the co-working business.
Son has said that he wants to keep SoftBank's loan-to-value ratio below 25%. S&P said that the gauge would likely be about 30%-35% in the coming year or so.
"If its credit rating falls one notch, the megabanks will no longer be able to lend as they have before, making fundraising even more risky," said Kikuchi. "In addition to SoftBank's own financing problems, the startups it invested in will have a hard time borrowing too."