SoftBank Cut to Hold at Jefferies as Discount to Assets Shrinks
(Bloomberg) -- Jefferies cut its rating for SoftBank Group Corp.'s stock to hold, arguing that a recent share rally has closed the deep discount to the value of the company's holdings and its investments look increasingly risky.
The gap between SoftBank's stock price and its net asset value has shrunk, leaving "very little margin of safety," Atul Goyal, senior analyst at Jefferies, wrote in a report. Goyal estimates the discount to be at 30% now, compared with 74% in March 2020, and below 10% if a capital gains tax is factored into the equation. He is breaking with consensus, as 15 out of 17 analysts tracked by Bloomberg recommend buying the shares and only one has a sell rating.
SoftBank is in a midst of a record-setting rally after founder Masayoshi Son launched a series of unprecedented share buybacks paid for by a 4.5 trillion yen ($42 billion) asset selloff. At the same time, a global surge in technology shares boosted profits at its Vision Fund investment arm to new records, raising the value of its holdings in the likes of Uber Technologies Inc. and paving the way for public listings from the likes of Coupang Inc. and DoorDash Inc. Even Son's money-losing venture into options trading didn't dampen the enthusiasm for long.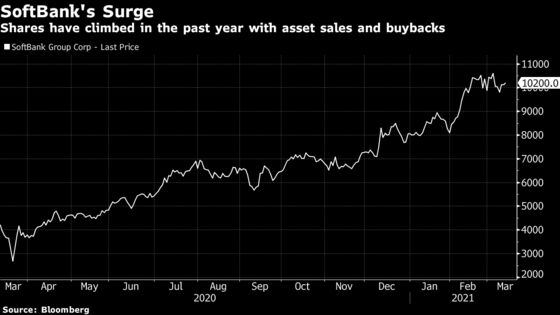 "This downgrade does not mean that we view stock price currently is in jeopardy. We believe SoftBank Group has enough ammunition to support the stock price for a few more months," Goyal wrote in the report. "But we do believe that the easy money has been made and any further index outperformance will increase the downside risks in near to mid term."
SoftBank's shares have climbed over 25% this year after an almost 70% jump in 2020. The stock traded around 10,155 yen on Thursday, compared with Goyal's 10,690 yen price target.