Societe Generale to Expand Into Sustainable Finance in India
(Bloomberg) -- Societe Generale SA plans to move into sustainable energy, transaction banking and trade finance in India, providing funding for local companies developing their businesses in Africa and central Europe.
"We really want to expand," Toby Lawson, the French lender's chief executive officer in India and chief country officer, said in an interview with Bloomberg TV on Wednesday. "There is a massive opportunity in India to develop and finance renewable energy."
Societe Generale, one of the first French banks to setup shop in India back in 1978, will continue to develop its structured finance business focusing on areas of energy transition, infrastructure, healthcare, technology and data, Lawson said. The bank also plans to hire for capital markets, transaction banking and for its advisory business, he said, without giving details.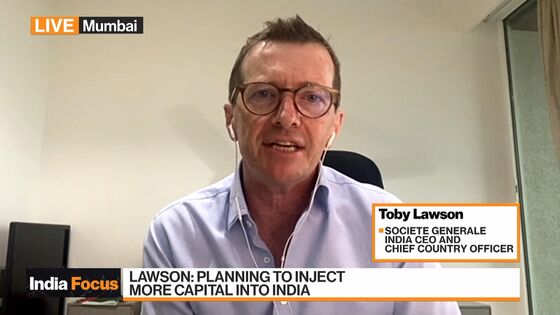 International banks have mainly shunned requirements to set aside additional capital and establish local subsidiaries in India, where return on average assets is higher than local competitors. Instead, they've largely remained operating as branches, underscoring their reluctance to expand and offer a wider range of financial services.