SocGen Traders Lost as Much as 200 Million Euros in Virus Rout
(Bloomberg) -- Societe Generale SA lost hundreds of millions of euros on stock trades during the market turmoil triggered by the coronavirus pandemic, following in the footsteps of French rival BNP Paribas SA.
Traders at the Paris-based bank lost between 150 million and 200 million euros ($160 million to $215 million) on equity derivatives, according to people familiar with the matter. The losses at the equity unit took place in the first quarter and before April's oil rout, and are likely to be cushioned by the bank's performance in fixed income and currencies, said the people, who asked not to be named discussing private information.
The global markets unit at Societe Generale, overseen by Jean-Francois Gregoire, saw trading volumes three to four times higher than usual in March across equities and fixed income, currencies and commodities, the people said.
A spokeswoman for Societe Generale in Paris declined to comment. The bank is due to report its first-quarter earnings on May 6.
Societe Generale and crosstown rival BNP Paribas are among the biggest players in dividend futures and structured products, which are derivatives linked to shares and corporate payouts -- both of which have tumbled since the emergence of the deadly coronavirus. Traders at BNP Paribas lost an estimated $200 million on equity derivatives in the first quarter, Bloomberg News reported earlier this month.
Some of the positions that went awry at Societe Generale included dividend futures, the people said. These trades have slumped in value as firms around the world suspend their awards in response to the economic damage of the coronavirus and, in some industries, pressure from regulators.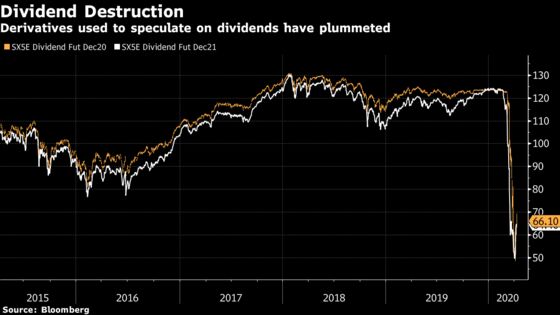 Analysts at JPMorgan Chase & Co. have estimated that SocGen lost as much as 300 million euros in the first quarter on "dividend positions in equity derivatives," according to an April 14 note to investors. French banks are more exposed than their Wall Street peers to these products, according to the note.
Chief Executive Officer Frederic Oudea said in a February earnings call that equity derivatives contributed to a 9% rise in revenues at the equities business in the fourth quarter. Societe Generale is ranked third globally for equity derivatives revenues, according to data from Coalition.
Last year, the lender replaced its veteran head of global markets, Frank Drouet, with former risk chief Gregoire to turn around the fixed income business while sustaining the bank's strength in equity derivatives.