SocGen Plans Investment Bank Job Cuts After Trading Slump
(Bloomberg) -- Societe Generale SA is making a last-ditch effort to boost its performance after a trading slump threatened Chief Executive Officer Frederic Oudea's targets.
The French bank -- recovering from regulatory probes that cost it billions of euros and a management reshuffle -- plans to cut jobs in less profitable investment banking businesses to save at least 100 million euros ($114 million) annually, people with knowledge of the matter said. The extent of the cuts may be made public as soon as next week, they said.
The stakes are high for Oudea as he tries to meet next year's goals and restore confidence after a profit warning and a history of disappointing investors. The CEO is among the longest-serving leaders in European banking, having been at the helm for about a decade, and took his third set of financial targets to investors in 2017 after missing earlier multi-year goals.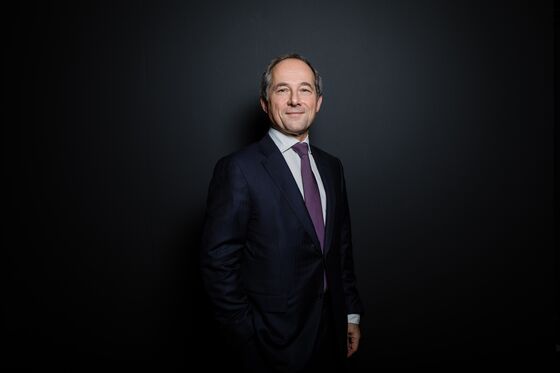 A spokesman at SocGen declined to comment.
SocGen shares were little changed in Paris trading Wednesday at 28.19 euros. The stock has declined about 40 percent in the past 12 months, compared with a 27 percent drop for Europe's STOXX 600 banking index.
Oudea's "track record is not great. When a stock is trading very low, it's often time to hand out some bitter pills," said Francois Chaulet, who helps manage 550 million euros at Montsegur Finance in Paris. "The investment bank used to be their strength, but there's need for restructuring."
SocGen is seeking to bolster profitability after warning that revenue at its key global-markets and investor-services business slumped about 20 percent in the final three months of the year because of reduced client activity. France's third-largest bank said it has been hurt by the "challenging markets environment in global capital markets" that will see revenue for the full year in the unit also fall about 10 percent from 2017.
The fourth quarter is shaping up as one of the ugliest since the global financial crisis for Wall Street and European securities firms. UBS Group AG, a star performer in recent years, last week posted a $47 million quarterly loss at its investment bank. This month, JPMorgan Chase & Co. and Goldman Sachs Group Inc. both missed analyst estimates for trading revenue, while Citigroup Inc. reported a 21 percent slide in fixed-income trading. Deutsche Bank AG, Europe's biggest investment bank, has also hinted at a weak quarter.
"It makes sense for SocGen to take action on costs," RBC Capital Markets analysts including Anke Reingen wrote in a note Wednesday, estimating that a 400 million-euro cost reduction would help improve SocGen's 2020 earnings by about 6 percent.
The French bank will likely seek to preserve its traditional trading strengths in equity derivatives and structured products, with potential reductions coming in less profitable parts of its fixed-income activities, the people said. Decisions on the magnitude and scope of the cuts may come when the bank announces annual results on Feb. 7, the people said.
SocGen's targets, presented in late 2017, are predicated on progressive dividend growth, improved profitability, revenue growth and 1.1 billion euros in annual cost savings by next year, including hundreds of branch closures and thousands of job cuts at the French retail networks. The new cost-cutting measures would come on top of existing efforts.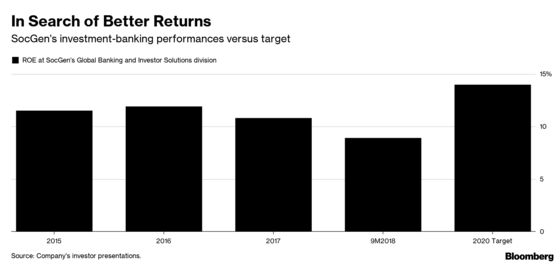 SocGen's said it will pay a stable dividend of 2.20 euros for 2018 -- the floor it had promised in its strategic plan -- and will offer a stock alternative. The bank on Jan. 17 said its pro-forma key capital level for the fourth quarter was in line with its 2020 goal.
Oudea reorganized his top management and hired senior traders from Bank of America Corp. last year to help reboot the bank's global-markets business after the shock departure of investment-banking boss Didier Valet. SocGen's board last year took the step of proposing a new four-year term for the CEO, and shareholders will vote on that at their annual meeting in May.
For Deputy CEO Severin Cabannes, in charge of investment-banking businesses, the priority is now to readjust a business plan that was crafted under Valet after the economic and market context worsened, one of the people said.
Here are some of the bank's key targets to 2020:
Compound annual growth rate of above 3 percent
2020 costs equal or less than 17.8 billion euros
Return on tangible equity of about 11.5 percent
Fully-loaded CET1 ratio greater than or equal to 12 percent
Leverage ratio of between 4 percent and 4.5 percent
Dividend floor at 2.20 per share as from 2017
EPS growing to approximately 6.5 euros per share in 2020
Cost of risk 35-40 basis points in 2020