SocGen Joins Barclays in Closing Trading Gap With Wall Street
(Bloomberg) -- Societe Generale SA joined a small group of European investment banks that are beginning to gain ground again on Wall Street peers.
Equity trading, a traditional strength of the French company, jumped 19 percent last quarter, the first gain in more than a year. The rebound may give a boost to Chief Executive Officer Frederic Oudea, who has shaken up management and hired senior derivatives specialists from Bank of America Corp. to help reboot the trading business.
The securities unit is key for Oudea, 55, as he seeks to reassure investors that, after a decade in the job, he can still deliver on targets including higher revenue. After settling some regulatory probes, the CEO is speeding up asset disposals while strengthening key business through deals such as the purchase of Commerzbank AG's equities markets and commodities unit.
"What we have seen this quarter is very robust activity in equities in the U.S.," Deputy CEO Philippe Heim said in a Bloomberg TV interview.
SocGen rose as much as 4.2 percent, the most in nine months, and traded 2.7 percent higher at 11:42 a.m. in Paris.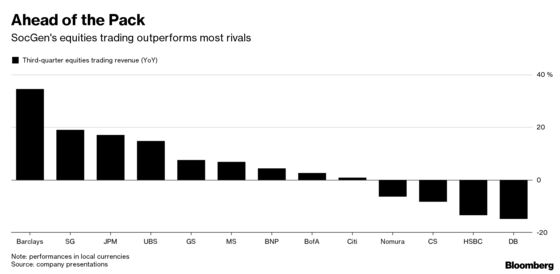 Equities trading revenue was driven by structured products and was particularly strong in the U.S., the French bank said. The prime brokerage business, which serves hedge fund clients, also did well. Fixed income trading was stable in a quarter in which rivals BNP Paribas SA and Deutsche Bank AG suffered declines of 15 percent and Credit Suisse Group AG contracted by 29 percent.
The diverging results add to evidence of a bifurcation among Europe's top investment banks, with SocGen, Barclays Plc and UBS Group AG posting strong trading results.
All told, revenue at the bank increased 9.6 percent in the quarter to 6.53 billion euros ($7.48 billion), with gains also in international retail banking and, at a slower pace, in SocGen's home market of France. But the headline number includes an accounting gain on the bank's stake in Euroclear. Without that, revenue in the first nine months of the year rose just 0.9 percent, still short of the bank's target of 3 percent average annual growth through 2020.
Highlights from SocGen's third-quarter report:

Net income up 32% to 1.23 billion euros, above consensus
Revenue at 6.53 billion euros, above 6.02 billion-euro average estimate
French retail revenue rose 1.8% to 1.95 billion euros, above estimates
Equities & prime services up 19%, beating average estimate of 15% growth
FICC revenue little changed at 494 million euros, in line with estimates
Financing and advisory revenue rose 9%, beating estimates
Oudea, speaking on a call with journalists, reiterated the bank's 2020 objectives, including reaching a Common Equity Tier 1 ratio of 12 percent. The third quarter was "in line with our expectations," he said.
SocGen also still has to settle a probe into whether it violated U.S. sanctions, a case that has involved the U.S. Treasury, federal and New York state attorneys' offices, the Federal Reserve and the New York Department of Financial Services. It said in September that the matter should be resolved within weeks, and that existing provisions should cover the cost.
"We have fully covered the cost associated with the remaining litigation matter that we have to solve," Heim said. He reiterated that SocGen expects a resolution of the sanctions-violations case within days or weeks.
Here are some of SocGen's 2020 targets, given last year:

Revenue growth of more than 3% annually on average
Asset disposals equivalent to 5% of risk-weighted assets
Return on equity of at least 10%
In June, SocGen agreed to pay about $1.3 billion to solve two other cases: a Franco-American investigation on bribery of Libyan officials and a U.S. probe into interest-rate manipulation. The settlement was one of the largest against a financial institution under the Trump administration.