SocGen Equities Trading Wiped Out in Perfect Storm for CEO Oudea
(Bloomberg) -- Societe Generale SA slumped to a surprise first-quarter loss after coronavirus-related market volatility wiped out stock trading revenue and bad loan provisions surged.
Revenue from equities trading, a traditional stronghold of the firm, slumped 99%, more than offsetting strength in the smaller fixed-income unit, the French lender said Thursday. SocGen set aside 820 million euros ($890 million) to cover bad loans and warned provisions -- including for defaults and two fraud cases -- could hit 5 billion euros this year in a worst case scenario.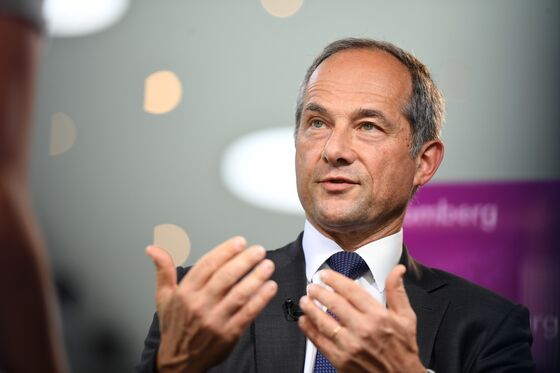 The net loss -- 326 million euros for the quarter -- adds to a series of setbacks for Chief Executive Officer Frederic Oudea, the longest-serving leader of a top European bank, who's been refocusing SocGen's trading on its traditional strength in equities and related derivatives. Wall Street banks on average posted a 28% gain in equities trading in the quarter.
"We went through extraordinary dislocations of the market in the second half of March," Oudea said in an interview on Bloomberg TV.
SocGen fell 7% as of 1:10 p.m. in Paris trading, with French peers BNP Paribas SA and Natixis SA also declining. The stock has lost more than half of its value this year, one of the worst performers among European lenders.
Oudea said that in the bank's "base case" scenario, bad loan provisions would amount to about 3.5 billion euros this year. If the economic contraction is more severe than anticipated, the number could rise to 5 billion euros, he indicated in the interview.
"The difficult performance in equities was worse than we had highlighted," Omar Fall and Lorenzo Gren, analysts at Barclays Plc, said in a note. The outlook for provisions "will likely be challenged as being low."
Banks in the euro region have tried to avoid making big upfront provisions for loan losses, making use of regulators' guidance to spread them over time. Deutsche Bank AG said yesterday it was setting aside 506 million euros in the first quarter, a number some analysts also questioned as possibly too low. At SocGen, about 36% of first-quarter provisions was related to the pandemic.
The bank brought forward its results announcement to Thursday. They had originally been scheduled for next week.
SocGen -- which has already been cutting costs and exiting less profitable trading businesses -- is planning additional cost reductions of 600 million to 700 million euros this year by cutting down on travel and event expenses, scaling back external providers and freezing hiring.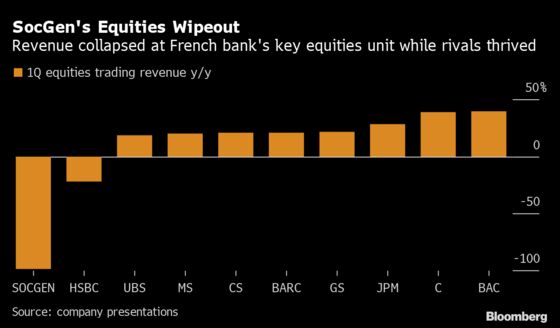 SocGen said it lost about 200 million euros in the equities trading business from products that were hit when companies started to cancel dividends, confirming a Bloomberg story earlier this month. Some of the positions that went awry included dividend futures, which slumped in value as firms around the world suspend payouts, people familiar with the matter have said.
"We confirm the loss of 200 million euros, which is related to this brutal reduction -- sometimes going to zero -- of dividends," Oudea said in the interview. The trading business was also hit by higher hedging costs, he said.
Societe Generale and crosstown rival BNP Paribas SA are among the biggest players in dividend futures and structured products, which are derivatives linked to shares and corporate payouts. Traders at BNP Paribas also lost an estimated $200 million on equity derivatives in the first quarter, Bloomberg has reported.
SocGen was also a prime broker to Malachite Capital Management, a New York-based hedge fund that had to wind down during the first quarter after its bets on market volatility went awry, Bloomberg reported. That firm had about $600 million under management.
What Bloomberg Intelligence Says:
Societe Generale's 1Q profit warning and loss effectively undo all of 2019's good work, and with misses in equities trading, French retail and costs, will hit both estimates and sentiment heavily. Oil and Covid-19-related provisions were expected, but the additional 600-700 million-euro 2020 savings won't be able to offset disappointment at the results.

-- Philip Richards, BI banking analyst

Click here to see the full report
Fixed income trading helped cushion the equities decline, with a gain of 32% that puts the bank on par with U.S. firms. SocGen last year replaced its veteran head of global markets, Frank Drouet, with former risk chief Jean-Francois Gregoire to turn around the fixed income business while sustaining the bank's strength in equity derivatives.
In addition to trading losses, SocGen said it was hurt by counterparty defaults and higher reserves. While it didn't identify those parties, the bank is among lenders exposed to storied Singapore oil trader Hin Leong Trading (Pte) Ltd., which has applied for protection from creditors, potentially becoming the highest profile casualty of an historic oil price rout. The company owes more than 20 banks almost $4 billion, including about $240 million to SocGen, according to a draft copy of a presentation for bank creditors seen by Bloomberg News.
The business of advising on deals and helping companies raise money posted a loss as the investment bank set aside 342 million euros for risky assets and to cover two fraud-related charges during the quarter. SocGen didn't identify the cases but said it may have to provision more as those situations develop over the course of the year.