SocGen's Oudea Lifts Capital Strength as Trading Slump Continues
Societe Generale SA got some relief from its key equities business and stronger capital levels in a quarter that prolonged the slump in its investment banking unit.
The French bank's business of buying and selling equities and providing services to hedge funds did better than most peers, a rare bright spot as earnings were dragged down by a slump in fixed-income trading. A key measure of financial strength improved after the bank pulled back from some riskier businesses and sold assets.
The diverging results show the challenge for Chief Executive Officer Frederic Oudea, who is facing a crucial shareholder vote this month on a new term. Oudea, the longest-serving CEO of a top European bank, is cutting 1,600 jobs after he had to give up his main mid-term targets for growth and profitability. He is trying to show he can preserve leadership in businesses such as equity derivatives while meeting targets for capital and exiting or refocusing some fixed-income activities.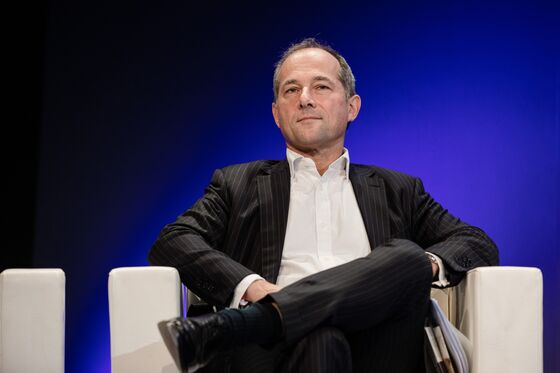 "We are adjusting the business where it's necessary," Oudea said in an interview with French broadcaster BFM. The increase in financial strength should reassure investors that the bank won't need to tap shareholders for fresh capital, said Oudea, who will hold an investor presentation in London on Tuesday to give more details on the restructuring.
SocGen jumped as much as 4.5 percent and was trading 3.9 percent higher at 29.49 euros as of 11:07 a.m. in Paris, the highest since a shock profit warning in mid-January.
The shares have been trailing those of larger rival BNP Paribas SA this year, suggesting stockholders are yet to be convinced the bank is doing enough to turn the situation around. Some analysts have said that ongoing turnover at the trading unit might dent revenue and that the changes come with high risks. In February, SocGen replaced the markets unit's head and the head of the fixed-income business is also leaving.
Here are some more key highlights from SocGen's first-quarter results:

Net income fell 26% to 631 million euros, missing analyst estimates
Group revenue declined 1.6% to 6.19 billion euros, in line with estimates
Corporate financing & advisory revenue rose 19%
Bank expects 250 to 300 million euros of restructuring costs in 2019
SocGen has a "solid team" in place to manage the key global banking and investor solutions unit and doesn't need new executives, Deputy CEO Severin Cabannes said in a Bloomberg Television interview. He confirmed a Bloomberg report earlier this week that the bank's global head of trading role will disappear as part of the reorganization.
Read more about the cuts to the investment bank here.
Revenue from fixed-income trading slumped 16 percent, while equity and prime-services sales declined 5.3 percent. Overall, trading was down 7 percent.
The results contrasted with BNP Paribas, which on Thursday surprised markets with a rebound in fixed-income trading that beat European and U.S. peers, offsetting continued weakness in equities. BNP, the country's largest lender, is also cutting some trading businesses after revising down its goals.
The bank's common equity Tier 1 ratio -- a key measure of capital strength -- climbed to 11.7 percent at the end of March, from 11.2 percent three months earlier. SocGen has been scrambling to reduce or exit some trading activities to help absorb the effect of a regulatory review. At the end of 2018, it exceeded its capital requirement by the narrowest margin of the top 10 listed euro-zone banks.
The bank has sold several retail units in Eastern and central Europe and has pledged to accelerate disposals to bolster its funding levels. SocGen is selling its Slovenian retail unit SKB to OTP Bank Nyrt. The transaction will lift SocGen's core capital ratio by about 7 basis points but it will also represent a 67 million-euro drag on its first-half results.
Sales at the French retail business fell 3.2 percent, while they were flat at BNP Paribas. Good news came from the international banking and financial services operations, which posted a 4.4 percent increase, partly boosted by insurance and car-leasing.