Liberia's George Weah Fails to Win Extra Time in Referendum
Liberians rejected a referendum backed by President George Weah which opposition feared could have been used to reset the clock and allow the former soccer star to extend his stay in office.
The Dec. 8 plebiscite, which sought to shorten presidential and senatorial term limits and allow dual citizenship, failed to achieve the two-thirds needed for the proposal to pass, National Elections Commission Chairwoman Davidetta Browne Lansanah said in a statement.
"Based on the results of the 2020 referendum, none of the eight propositions met the constitutional threshold," Browne said in a statement emailed from the capital, Monrovia, on Friday.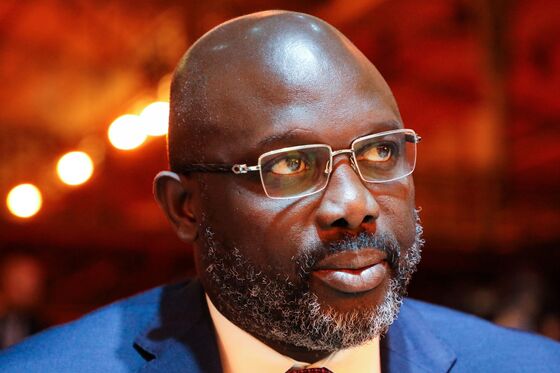 The decision came as leaders in Ivory Coast and Guinea argued that constitutional changes reset the clock on terms already served in office, going on to secure third terms they would otherwise not have been eligible for. Weah, who will complete his first mandate in 2024, has denied that he is seeking to extend stay in office beyond the two-term limit.
Still, the defeat of a referendum he supported is the latest in a series of setbacks suffered by Weah, 54, since the ex-AC Milan striker became president in 2018. Weah's term has been plagued by protests over high food and fuel prices, government corruption, and an economic crisis.
Liberia's economy is struggling to recover from a devastating 2014-16 Ebola outbreak and a sharp drop in iron-ore prices after the Covid-19 pandemic began last year. The International Monetary Fund predicts the West African nation's economy will grow 3.2% in 2021, after contracting for the past two years.
"Weah's record was on the ballot," said Ibrahim Nyei, a political analyst and doctoral student at the University of London's School of Oriental and African Studies. "The president campaigned for the referendum and the result does reflect on Weah's politics."
The ruling Coalition for Democratic Change won five out of 30 senate seats after the Dec. 8 vote, with four yet undecided. That compares with nine seats, through election wins and cross-carpeting, before January's senate dissolution.
The proposed changes to Liberia's 1986 constitution included reducing the presidential term limit from six to five years, renewable twice. It also sought to shorten the time senators can serve in office to seven years from nine.
Opposition leaders including Abraham Darius Dillon said the referendum was an attempt by Weah to seek re-election for two five-year terms, after his current two six-year terms are up.