Snowflake Rally Defies End of Lockup on Millions of Shares
(Bloomberg) -- Snowflake Inc. rallied by the most in a month on Thursday despite the expiration of a second lockup freeing company insiders from selling restrictions on tens of millions of shares.
Snowflake shares rose 14% to close at $304.20 amid an advance in technology stocks. The gains were part of a broader rally as investors bet that Democratic control of Congress and the White House will usher in more economic stimulus.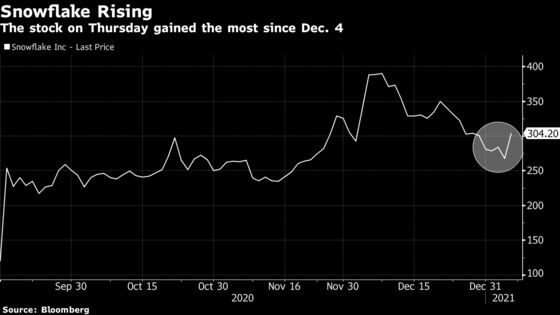 The cloud-computing company, which briefly topped $110 billion in market value last month, said in a Dec. 29 filing that an estimated 37.9 million shares would become eligible for sale at the open of trading Thursday.
Investors have bid up Snowflake shares to gain exposure to the company's rapid revenue growth, which is projected to exceed 80% in fiscal 2022. While the stock has more than doubled since debuting in September, it has fallen more than 7% since the first lockup expired on Dec. 15.