Sneaker Brand Allbirds Leaps 93% in Debut After Upsized IPO
(Bloomberg) -- Allbirds Inc. rose 93% in its trading debut after its initial public offering topped the shoemaker's goals to raise $303 million.
Shares of the San Francisco-based company, which sold in the IPO for $15, opened trading Wednesday at $21.21 and briefly rose as much as 116%. The stock closed at $28.89, giving the company a market value of $4.2 billion.
Accounting for employee stock options and similar holdings, the company has a fully diluted value of almost $4.7 billion. That's up from a funding round last year that valued it at $1.7 billion, according to data provider PitchBook.
The company and its existing shareholders sold more than 20 million shares Tuesday after marketing 19 million of them for $12 to $14.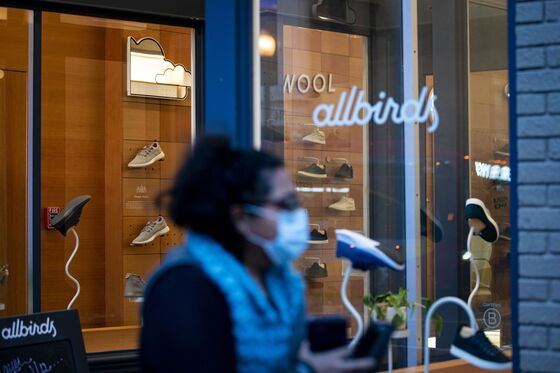 The company's listing is one of 417 on U.S. exchanges that have raised an all-time high of more than $137 billion, according to data compiled by Bloomberg. That excludes special purpose acquisition companies, or SPACs.
Consumer IPOs accounted for $55 billion of that total, led by listings including the $1.78 billion offering by Olaplex Holdings Inc. and the $557 million raise by coffee chain Dutch Bros Inc. in September. One of those listings was the $858 million IPO in September by On Holding AG, the maker of high-performance shoes backed by tennis star Roger Federer.
Allbirds has been expanding beyond the wool trainers favored by environmentally minded shoppers to include apparel. The direct-to-consumer brand's net revenue for the six months ended June 30 rose 27% year-over-year to $118 million. In the same period, its net loss widened to $21 million from $9.5 million. 
The company's pitch to shoe-buyers emphasizes the sustainable, natural materials used in its footwear, including eucalyptus fiber, castor bean oil and crab shells, as well as wool.
The shoemaker is a B-Corp, which means its board is legally bound to balance profit and purpose and publicly share an impact report on how it's improving society or the environment.
Allbirds' biggest investors include affiliates of Maveron, Tiger Global, T. Rowe Price, Fidelity and Lerer Hippeau Ventures, its filings show.
The offering was led by Morgan Stanley, JPMorgan Chase & Co. and Bank of America Corp. The company's shares are trading on the Nasdaq under the symbol BIRD.