Snap's User Growth Struggles Raise Questions From Advertisers
(Bloomberg) -- Snap Inc. has offered advertisers a much-needed alternative to Facebook Inc., especially when they want to reach young people or attempt something extra creative. But a big question remains: Will the user base grow?
When Snap reports earnings on Thursday, investors and advertisers will focus on whether Snapchat, the disappearing video sharing app, is still the hot must-use site for young people, or whether that group is just as easy to find on Facebook's Instagram. They'll want to see if the decline in daily active users that Snap reported in the second quarter was merely a blip, or a trend. If it's a trend, the ad industry has less incentive to spend money on Snapchat.
"Some advertisers are less enthusiastic about Snapchat than they used to be," said Debra Aho Williamson, an analyst at EMarketer. "They do feel that they get a bigger audience and potentially better tools from Instagram, and that's super attractive to them."
Over the last few years, as Snap built its ad business, it tried to create a system that was comparable to Facebook's. It gave businesses similar tools to measure and target ads, which could be purchased through the same kind of self-serve buying program. Those moves helped make it easier for advertisers to spend money, but also set up Snap to be directly measured against its much larger, more mature competitor.
Snap reported 188 million daily active users in the second quarter. Instagram has 400 million daily users just for the "stories" portion of its app -- the feature that allows people to post short videos about their day, which it copied from Snapchat.
"I still think it's a slightly apples and oranges comparison," said David Cohen, the North America president for MAGNA, who sits on Snap's advertiser advisory board. Now that Snap is making its own short-form television shows for its app and has introduced video ads that can't be skipped by users, the money they're taking in is more likely to have otherwise gone to TV shows -- not to Facebook, he said.
Analysts predict a slowdown in revenue growth, with the average estimate for an increase of 36 percent from a year earlier to $283 million. In the second quarter, revenue grew 44 percent. Their expectations have been declining. A year ago, analysts on average estimated that Snap would have $1.58 billion in revenue this year. Now, they expect $1.15 billion, according to a history of analyst estimates compiled by Bloomberg.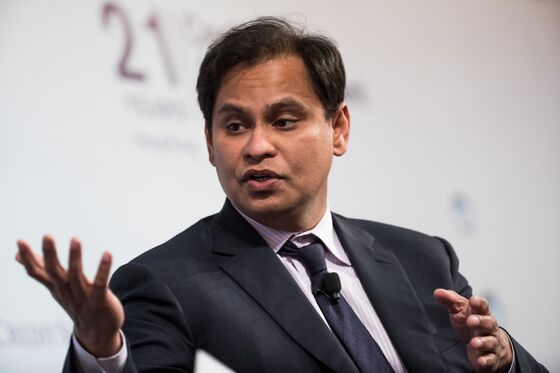 Snap rose 6.1 percent at 12:51 p.m. in New York, which would be its biggest gain since February. The company's shares have dropped 52 percent this year -- and fell Wednesday even with Snap's announcement that it had found replacements for Imran Khan, departing second-in-command to Chief Executive Officer Evan Spiegel.
Jeremi Gorman, formerly head of global advertising sales at Amazon.com Inc., will be chief business officer. Jared Grusd, who was chief executive officer of the Huffington Post and previously worked at Spotify and Google, is joining as chief strategy officer, overseeing content, partnerships and corporate development, Snap said Wednesday.
"The public market is very volatile," Khan, Snap's outgoing chief strategy officer, said Tuesday in an interview on stage at the Yext Inc. Onward conference. "Sometimes you don't get credit for what you deserve, and sometimes you get blamed for something you don't deserve."
3Q revenue estimate $283.4 million (range $272.0 million to $303.0 million)
3Q adjusted loss per share estimate 14c (range loss/share 11c to 18c)
3Q adjusted Ebitda loss estimate $167.2 million (range loss $142.0 million to $182.0 million)
3Q daily active user estimate 186.8 million (average based on four estimates compiled by Bloomberg News)
8 buys, 16 holds, 12 sells
Avg PT $9.87 (42.2% upside from current price)
Implied 1-day share move following earnings: 17.9%
Shares fell after 5 of prior 6 earnings announcements
Adjusted EPS beat estimates in 3 of past 6 quarters
Shares up 2.1% in past 5 days vs SPX Index down 2.6%
Shares down 50.9% in past year vs SPX Index up 5.5%
Earnings release expected 4:15pm (New York time)