Snap Analysts Say Bull Case Is Intact Despite Revenue Miss
(Bloomberg) -- Snap Inc. shares tumbled after the social-media company's revenue missed expectations, snapping six quarters of beats. The Snapchat parent also gave a first-quarter sales outlook that was seen as light.
Analysts broadly described the quarter as mixed, noting strength in metrics like user growth and engagement. Because of these offsetting factors, Barclays wrote that the size of the share-price drop seemed "a bit harsh." UBS wrote that the quarter "contained enough mixed messages to cause a negative reaction in the shares that seemed rational short-term."
Brokers also pointed to recent gains in Snap shares, a sign of elevated expectations going into the print. "While the report was generally in-line," Susquehanna wrote, "it wasn't good enough to sustain the stock momentum."
Shares sank as much as 7.3%. This comes after a rally of nearly 35% between a December low and the close of trading on Tuesday.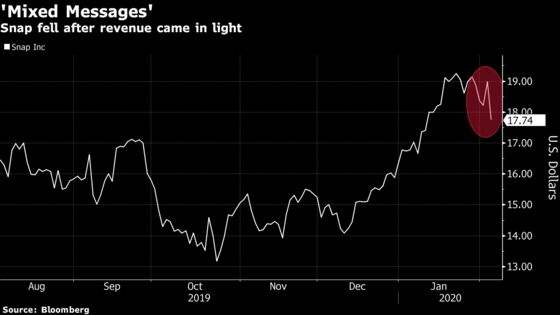 Here's what analysts are saying about the results:
"User growth continues to accelerate, while company execution has seemingly turned the corner." The valuation is high, but Snap "has a clear path ahead to better monetize its highly engaged and growing user base."
Buy rating, $22 price target.
The results "contained enough mixed messages to cause a negative reaction in the shares that seemed rational short-term." Snap needs upside in both revenue and user growth to sustain the momentum in the stock.
Sees continued "strong performance in user growth/engagement, yield from platform investments & improved benefits of scale pointing toward profitability."
A sell-off of this magnitude "seems a bit harsh," but is "not surprising" given the valuation.
Would use the decline as a buying opportunity as Snap "is one of the few names with a strong possibility of accelerating growth and profit inflection in 2020."
Overweight, price target raised by $1 to $23.
The revenue miss and deceleration in North American revenue "should not cause major concern," as the company's underlying fundamentals "remain very healthy." The first-quarter outlook implies an acceleration in user growth, and "we think they can nearly double" average revenue per user (ARPU) over a three-year period.
However, these results come in the wake of similarly disappointing numbers from both Facebook and Alphabet, "raising questions about the durability of the U.S. ad market."
Susquehanna Financial Group, Shyam Patil
Expectations were high going into the news, and "while the report was generally in-line, it wasn't good enough to sustain the stock momentum."
But the company "continues to progress on its turnaround," with strong daily active user growth and improving monetization. "We like the recent improvements to execution across the business."
Neutral, price target to $17 from $16.
Snap "continued to deliver strong sequential global DAU growth," though the quarter was mixed overall.
Neutral rating, "as we believe there could be top-line revenue risks on Street 2021 estimates due to ARPU growth pressures."
JMP Securities, Ronald Josey
"Expectations were elevated into what we view as a solid result."
The deceleration in revenue was related to a shorter holiday shopping season, a factor that "had an outsized impact on results, due partly to Snap's greater reliance on brand advertising." Because of this, the results are "more of a one-time event," and revenue growth should re-accelerate in the first-quarter.
"Snap's ad business and platform overall is significantly better positioned to continue closing its ARPU gap relative to Twitter and Facebook."
Market outperform, $22 price target. "We are buyers, especially on any pullback in shares."
RBC Capital Markets, Mark Mahaney
Snap was "was more materially impacted by [a] shortened holiday season" than either Facebook or Alphabet given "less supply constraints."
The company is "still at an inflection point," so the stock is "still investable."
Outperform, $21 price target.
Both the results and the first-quarter outlook were mixed, though engagement was a bright spot. "The platform continues to reap the rewards of app improvements over the past several quarters, including the rework of the Android application. These improvements have helped to drive better engagement and user retention."
Outperform, $20 price target.
What Bloomberg Intelligence Says:

"Snap's below-consensus 1Q guidance shows it's still figuring out revenue scaling as user growth stays strong."

There is "room for upside surprises for the year," and user growth can help the company overcome the outlook.

- Analyst Jitendra Waral

- Click here for the research